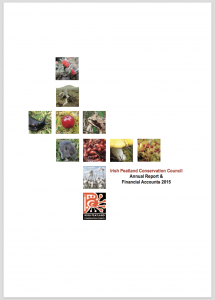 IPCC's Committee of Management are delighted to present the Annual Report and Financial Accounts of the Irish Peatland Conservation Council for 2015.
In this year we completed restoration of 8.5ha of Girley Bog in Co. Meath and drew up a Conservation Action Plan 2016-2025 in partnership with a variety of stakeholders, acquired 10 acres of blanket bog at Coad in Co. Kerry, employed a Campaign Officer and organised over 100 events around the country celebrating bogs.
Our success is due to the support of our donors, volunteers and staff. Thank you all so very much.
Committee of Management of the IPCC: Stephen Bray, Joanne Denyer, Rachel Kavanagh, Martin Kelly, Kate Macnamara, Miles Newman, Catherine O'Connell, Seán Ó Fearghail and Jennifer Roche.
Highlights of 2015
Acquisition of Coad Bog, Co. Kerry
Girley Bog Conservation Action Plan 2016-2025
Creation of a new staff position and employment of a Campaign Officer
Download the IPCC Annual Report and Accounts 2015.