IPCC's Annual Report and Financial Statements 2013 are proudly presented by the Committee of Management. The Annual Report and Financial Statements 2013 were adopted at our AGM which was held on the 1st May 2014.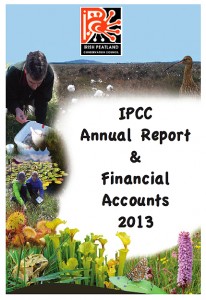 Download IPCC Annual Report & Financial Statements 2013
Highlights of IPCC Activity 2013
Purchase of Girley Bog
Peatland Passport for Ireland Published
Dutch Foundation 30th Anniversary Event
Government publish Peatland Strategy
BIOBOG – Biodiversity Awareness in the Bog of Allen
Thank You
IPCC's Committee of Management would like to thank all of our friends of the bog who donated to the different projects undertaken as part of the Save the Bogs Campaign in 2013. We are grateful to our volunteers for their practical help in the delivery of our projects during the year.