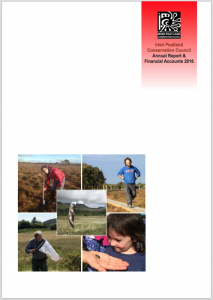 The Committee of Management of the IPCC  are delighted to present the Annual Report and Financial Accounts of the Irish Peatland Conservation Council for 2016. The accounts were adopted at the AGM held on the 9th May 2017.
In this year we held a very successful BioBlitz on Coad in Co. Kerry, produced new education resources for primary schools, extended our visitor boardwalk on Lodge bog, Co. Kildare, developed policy on blanket bogs, visited bogs in the Netherlands and Germany and organised over 100 events around the country celebrating bogs.
Our success is due to the support of our donors, volunteers and staff. Thank you all so very much.
Highlights of 2016
Coad Bog BioBlitz, Co. Kerry
Discovering the Wild Bogs of Ireland Education Pack
Lodge Bog Visitor Boardwalk
Blanket Bog Policy Campaign
IPCC's voluntary Committee of Management held 6 meetings during the year and the AGM. Our work included regulating IPCC's finances and operations, monitoring health and safety, facilitating an audit of our finances, drawing up a Communications Plan, participating in the Coad Bog BioBlitz and undertaking staff evaluations. IPCC reported on all of our activities to the Charities Regulator.
Committee of Management IPCC: Stephen Bray, Rachel Kavanagh, Martin Kelly, Kate Macnamara, Catherine O'Connell, Seán Ó Fearghail and Jennifer Roche
Download the IPCC Annual Report and Financial Statements 2016
Archive Accounts
Contact Details
The Irish Peatland Conservation Council can be contacted at the Bog of Allen Nature Centre, Lullymore, Rathangan, Co. Kildare, R51 V293, Ireland.
Tel: +353-45-860133; Email: bogs@ipcc.ie