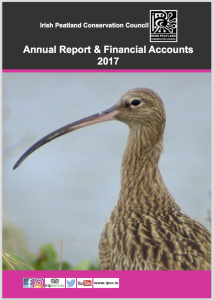 The Committee of Management of the IPCC  are delighted to present the Annual Report and Financial Accounts of the Irish Peatland Conservation Council for 2017. The accounts were adopted at the AGM held on the 8th May 2018.
In this year we raised substantial funding to manage our network of nature reserves in Counties Kildare, Kerry and Meath. We managed the successful breeding of Curlew on Lodge Bog, helped develop a national monitoring programme for Large Heath Butterfly, trained citizen scientists to help with our work, introduced a donkey grazing regime on Lullymore West Bog to improve the quality of the habitat for Marsh fritillary butterflies, ran a fens advocacy campaign and lobbied Government to publish the Raised Bog SAC Management Plan.
Our success is due to the support of our donors, volunteers and staff. Thank you all so very much.
Highlights of 2017
Significant funds for peatland reserve network management
Action on 23 peatland site planning and other issues
Peatland Conversations with over 2000 visitors to the Bog of Allen Nature Centre
Fen Advocacy Campaign
IPCC's voluntary Committee of Management held 7 meetings during the year plus the AGM. Our work included regulating IPCC's finances and operations, monitoring health and safety, facilitating an audit of our finances, drawing up Risk Management and Governance Action Plans and creating a new staff post of Wildlife Gardener. IPCC reported on all of our activities to the Charities Regulator.
Committee of Management IPCC: Stephen Bray, Rachel Kavanagh, Martin Kelly, Catherine O'Connell, Seán Ó Fearghail and Jennifer Roche
Download the IPCC Annual Report and Accounts 2017
Archive Accounts
Contact Details
The Irish Peatland Conservation Council can be contacted at the Bog of Allen Nature Centre, Lullymore, Rathangan, Co. Kildare, R51 V293, Ireland.
Tel: +353-45-860133; Email: bogs@ipcc.ie