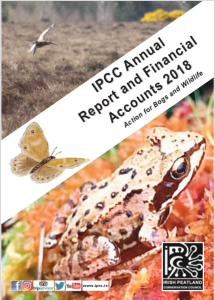 The Committee of Management of the IPCC  are delighted to present the Annual Report and Financial Accounts of the Irish Peatland Conservation Council for 2018. The accounts were adopted at the AGM held on the 7th May 2019.
In this year we raised substantial funding to manage and enhance biodiversity on our network of nature reserves in Counties Kildare, Kerry and Meath. We continued our species monitoring programmes of Curlew, Marsh Fritillary and Large Heath on our re- serves. We drew up a management plan for butterflies on Lully- more West Bog and we provided professional training for Peatland Managers in Northern Ireland on Sphagnum Restoration Methods. We held an international Dutch-Irish Peat Crossing Borderlines Event as part of the national celebrations of European Year for Cultural Heritage. We ran a campaign focusing on the unsustainable harvesting of sod moss from raised bogs that should be protected.
Our success is due to the support of our donors, volunteers and staff. Thank you all so very much.
IPCC's voluntary Committee of Management held 6 meetings in 2018 plus an AGM. Our work included regulating IPCC's finances and operations, monitoring health and safety, facilitating an audit of our finances, appointing new directors, ensuring our compliance with the Governance Code and enacting the IPCC Succession Plan. IPCC reported on all of our activities to the Charities Regulator.
Download the IPCC Aannual Report and Financial Statements 2018
Committee of Management IPCC: 
Rachel Kavanagh, Martin Kelly, Miriam Mooney,  Catherine O'Connell, Seán Ó Fearghail and Jennifer Roche
Archive Accounts
Contact Details
The Irish Peatland Conservation Council can be contacted at the Bog of Allen Nature Centre, Lullymore, Rathangan, Co. Kildare, R51 V293, Ireland.
Tel: +353-45-860133; Email: bogs@ipcc.ie