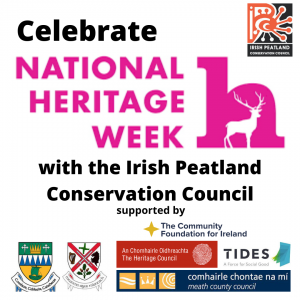 Press Release
9th August 2021
The Irish Peatland Conservation Council (IPCC) are delighted to announce that we will be joining the Heritage Week 2021 celebrations. This year, Heritage Week will be celebrated from the 14th-22nd of August with the message to 'Open the door to Heritage' where inclusion into all events is an important factor. IPCC are thrilled to be able to welcome members of the public this year to celebrate Heritage Week through both physical and online events.
Launching the Irish Peatland Conservation Council Heritage Week events is our first event on the 14th of August 2021 at the Bog of Allen Nature Centre at 11am. We will be 'Discovering the bumblebees and butterflies of Lullymore West' with a walk to the reserve. Here, participants will learn how to identify some of the common bumblebees and butterflies on the wing and how to complete the weekly butterfly and bumblebee surveys. This event is suitable for beginners and families wanting to learn a new skill or for anyone interested in recording these species in a garden or your local community.
In the afternoon of the 14th August from 2pm, IPCC will be hosting an event called 'Peatlands, Climate and Carbon'. Participants will learn about IPCC's current carbon project on Lodge Bog South in Co. Kildare and how we are undertaking research to calculate the amount of stored carbon within this section of the bog and talking you through some of the main points in the new Peatlands and Climate Change Action Plan 2030. To do this, we have mapped and completed 32 peat probes across the site to assess the depth of the peatland. We will meet at the Bog of Allen Nature Centre and walk to Lodge Bog South. On site, we will also discover some of the common bogland wildlife found on the raised bog habitat and learn first-hand, how to use a peat probe so that this experience may be taken back to your local community.  This is a family friendly event however, we do ask that anyone wanting to join us must wear strong waterproof footwear and dress for the weather as this is an outdoor event and there is no shelter on a bog.
Join IPCC on the 15th of August at 2pm for a walk and talk to Girley Bog for our Heritage Week event 'Sphagnum trials – A peatlands restoration method'.  Meet at Causey farm and walk with IPCC to Girley Bog, a raised bog nature reserve located in Co. Meath.  Learn of the Sphagnum moss transfer method used to create Sphagnum trial plots on the cut area of the bog. This research is part of a three-year project that has now come to a close with a final report being prepared shortly. This event is free and suitable for families and members of the pubic interested in peatland conservation and restoration. Please wear strong waterproof footwear and dress for the weather.
An online event entitled 'All about Coad Bog', scheduled for the 20th of August at 1pm. This event via zoom is aimed at all members of the public including those interested in the conservation and restoration works completed on IPCC's blanket bog nature reserve, Coad in Co. Kerry. Participants will also learn of the wildlife recorded on site. You must register for this event, so email bogs@ipcc.ie and a link for the zoom call will be sent to you.
Throughout the week the Irish Peatland Conservation Council have also partnered with groups including An Taisce – 17th August, ETHOS & the CarePeat project 18th August and Killyconny Bog Project 19th August where we will be exploring peatlands with your local communities virtually.   
IPCC's Conservation and Education Officer Paula Farrell has this to say 'We are very happy to be able to host physical events for Heritage Week this year and to meet people face to face once again. Heritage Week is about welcoming all members of the public to celebrate this special week so be sure to check out local events in you area through www.heritageweek.ie or join us at the Bog of Allen Nature Centre if you can.'
These events are supported by Kildare County Council and Meath County Council under the Heritage Grant Scheme 2021, Kerry County Council, the Heritage Council through the Heritage Sector Support Fund 2021, Community Foundation for Ireland and Patagonia.