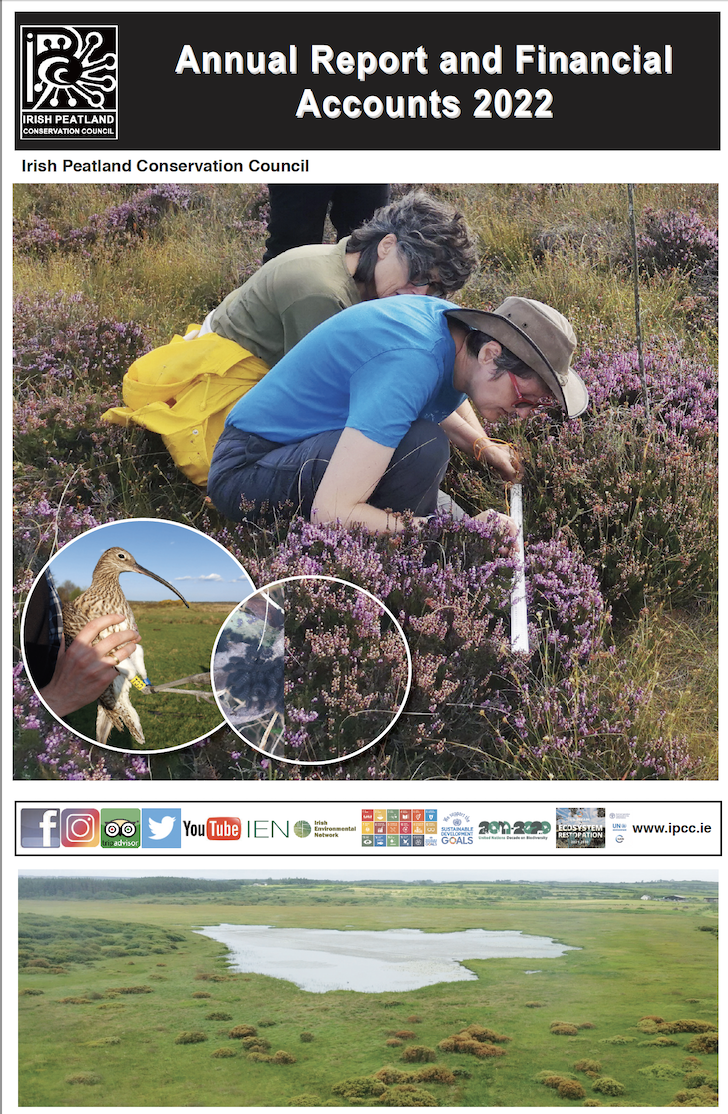 The Committee of Management are delighted to present the Annual Report and Financial Accounts of the Irish Peatland Conservation Council for 2022.  This year marked 40 years of the IPCC taking action for, and giving a voice to, Irish peatland habitats and their associated ecosystem services.  IPCC would like to acknowledge and express its gratitude for funding received from Friends of the Bog, and from public, private and philanthropic groups. This funding was used to support its work to conserve a representative sample of Irish peatlands.
In 2022, the final report of the Review of the Use of Peat Moss in Horticulture was published. The IPCC was disappointed with the report, and did not support the recommendations. The IPCC took action by hosting compost talks and opening an online
survey to gather public perceptions regarding the use of peat. Ultimately, 100% of the survey respondents reported considering the extraction of peat for horticulture as
having a negative impact on peatland habitat and biodiversity.
The IPCC welcomed the establishment of the Citizen Assembly on Biodiversity Loss, and
engaged with the assembly-establishment process through making written submissions and presenting to the 100 participating citizens.
At the Bog of Allen Nature Centre, physical works, included the completion of the new
outdoor classroom deck in the wildlife gardens. These were capitalised as assets in the financial accounts.
Several peatland research projects were undertaken, including:
* Re-instating the water-level monitoring at Girley Bog,
* Reviewing the conservation status of peatland species,
* Discovering Ketts Lough.
The IPCC continued to monitor peatland sites nationally, responding to scoping and planning applications and making submissions regarding rehabilitation works on 13 Bord na Móna Peatland Climate Action Scheme (PCAS) sites.
The IPCC was recognised as a Volunteer Friendly organisation by Volunteer Ireland.
There were changes to the IPCC's Committee of Management and patrons. In July, the
IPCC was saddened to learn of the passing of Pauline Bewick, who had been a patron of
the IPCC since 2009. Directors Rachel Kavanagh and Seán Ó Fearghail resigned from
the Committee of Management, and at the AGM on May 11th the IPCC thanked them
for the time they had given and the expertise they had brought to the Committee.
The IPCC welcomed Monty Don OBE as a new patron and John Lynch and Eugene
Dunbar as Directors of the Council.
The voluntary Committee of Management held eight meetings in 2022. Topics of discussion included, but were not limited to, the regulation of IPCC's finances and
operations and ensuring compliance with the Charities Regulator Governance
Code. The committee thanks the IPCC volunteers and staff who worked
throughout the year to take action for and represent peatlands.
IPCC Annual Report and Financial Accounts 2022
Committee of Management IPCC:
Martin Kelly, Kate Macnamara, Miriam Mooney,  Catherine O'Connell, Tiernan Murray, John Pierce, Eugene Dunbar, John Lynch and Rebecca Kummer.
Contact Details
The Irish Peatland Conservation Council can be contacted at the Bog of Allen Nature Centre, Lullymore, Rathangan, Co. Kildare, R51 V293, Ireland.
Tel: +353-45-860133; Email: bogs@ipcc.ie