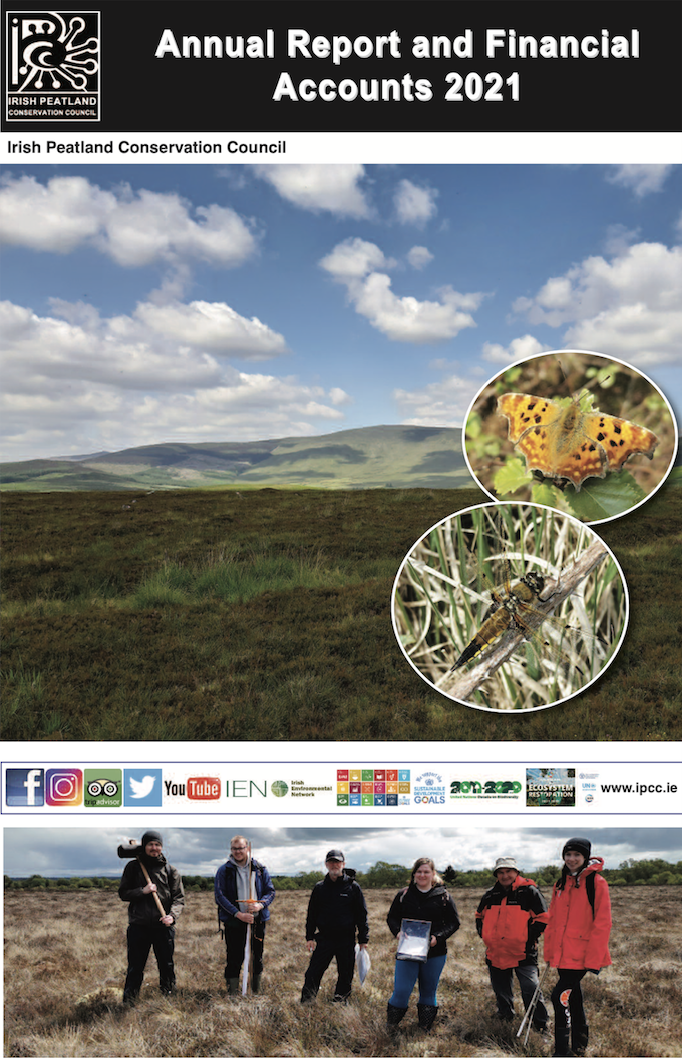 The Committee of Management are delighted to present the Annual Report and Financial Accounts of the Irish Peatland Conservation Council for 2021.
This was a year of change with the retirement of Dr. Catherine O'Connell after 33 years working with IPCC. Catherine helped form the building blocks for the 'Save the Bogs Campaign'. The Committee of Management wish to thank Catherine for her work over three decades and wish her every success in the future. IPCC welcomed Nuala Madigan as the new Chief Executive Officer. Nuala Madigan had previously worked as IPCC's Education Officer from 2006.
With funds raised through the sale of Symbolic Shares in Irish Peatlands initiative a 155.97 acre peatland reserve known as Kett's Lough, located in Co. Clare was purchased for conservation as a nature reserve for all.
On 22nd April, Earth Day IPCC published its 7th Peatland Conservation Action Plan 'Peatlands and Climate Change 2030'. The actions listed within the plan will guide the 'Save the Bogs Campaign' through this new decade declared by the UN as the International Decade of Ecosystem Restoration.
A number of peatland research projects were undertaken including:
* A Three year study of Sphagnum moss trials on Girley Bog, Co. Meath
* Estimating the store of carbon on Lodge Bog
* Five years of Curlew data were converted to digital format using QGIS suitable for breeding behaviour studies on this iconic peatland bird
* A bumblebee survey on Lullymore West Bog.
The voluntary Committee of Management held 8 virtual meetings in 2021.   Our work included regulating IPCC's finances and operations, monitoring health and safety, facilitating an audit of our finances and ensuring compliance with the Charities Regulator Governance Code.  IPCC are fully compliant with the Charities Regulator Code since 31st October 2021.
IPCC would like to acknowledge and thank funding received from Friends of the Bog, public, private and philanthropic groups that IPCC have used to support our work to conserve a representative sample of Irish peatlands.
Committee of Management IPCC: 
Martin Kelly, Kate Macnamara, Miriam Mooney,  Catherine O'Connell, Tiernan Murray, John Pierce, Eugene Dunbar and John Lynch.
Archive Accounts
Contact Details
The Irish Peatland Conservation Council can be contacted at the Bog of Allen Nature Centre, Lullymore, Rathangan, Co. Kildare, R51 V293, Ireland.
Tel: +353-45-860133; Email: bogs@ipcc.ie