IPCC Policy and Case Work is a vital part of our work to achieve our mission of conserving a representative sample of the peatlands of Ireland for people to enjoy now and in the future.  We have a Peatland Conservation Action Plan 2020 in place which sets out our policies to achieve this mission.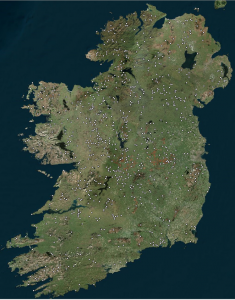 On a day to day basis in the office IPCC respond to invitations and public consultations to review new policy documents. In addition we respond to all peatland development proposals on a case by case basis. IPCC are currently monitoring developments against 1150 sites of conservation importance in our database. The map inset shows the location of the peatland sites we monitor in Ireland (Source IPCC sites database 2018).
If you would like to draw IPCC's attention to any site or policy document that needs our input please contact Tristram Whyte, Conservation and Policy Officer on bogs@ipcc.ie
IPCC are registered with lobbying.ie and on a quarterly basis we submit reports of any lobbying activity we undertake in relation to achieving our conservation goals.
The significant policy documents reviewed by IPCC and our submissions are set out below:
| | | |
| --- | --- | --- |
| | IPCC Policy & Casework | |
| | IPCC's Submission on National Parks & Wildlife Service Draft Prioritised Action Framework. Have your own say here. | |
| | County Kerry Development Plan2015-2021 Review. Big Issues Stage. IPCC's Submission 2020. | |
| | IPCC's Submission on the draft Wind Energy Guidelines 2020 | |
| | IPCC Peat in the Horticultural Industry Review 2020 | |
| | Environment Strategy NI 2019 IPCC Submission | |
| | Letter to Minister Richard Bruton, Department of Communications, Climate Action and Environment highlighting the issues with Peat Piracy 2019 | |
| | IPCC's submission on the public consultation "Uses of revenue received from the Carbon Tax" 2019 | |
| | Statement to the joint Oireachtas Committee on Culture Heritage and the Gaeltacht 6th February 2019 concerning the Preservation of the Biodiversity and Ecosystems of Peatlands | |
| | IPCC's Submission on Heritage Ireland 2030 submitted in 2019 | |
|   | River Basin Management Plan for Ireland 2018-2021: IPCC RBMP submission 2017 | |
| | Valuing People and Place. The Heritage Council  2018-2022. Consultation Document.  IPCC submission 2017 | |
| | | |