Irish Peatland Conservation Council (IPCC) 1982-2017 – a 35 Year History
A 35 year history of the Irish Peatland Conservation Council and a timeline of actions that have saved the Bogs of Ireland. IPCC's Chief Executive – Dr Catherine O'Connell reflects on the highlights.
In the Beginning
The Irish Peatland Conservation Council began in 1982 as the National Peatland Conservation Committee. This Committee was set up following a debate on the future of Irish bogs organised by An Taisce and held in University College Dublin. This organisation led by Prof Gerry Doyle later became the Irish Peatland Conservation Council (IPCC). For three years the NPCC voluntary committee worked hard to develop the first inventory of peatland sites in Ireland and an Action Plan for their conservation. They also proposed a management structure for a campaigning organisation which they felt was needed to be a voice for Irish bogs. In 1985 the NPCC resigned and the IPCC was formed under the leadership of Dr Neil Lockhart. The Committee of the IPCC began to engage in lobbying, education, fundraising and purchasing sites with Dutch funding. The "friends of the bog" supporters fundraising scheme was launched and the first issue of Peatland News was published. By August 1986, Dr Lockhart had established IPCC as a charitable organisation and a company limited by guarantee. The signatories to the Memoranda and Articles of Association were: Dr Neil Lockhart, Prof. William Watts, Prof Frank Mitchell, Dr Reg Parker, Mr William Finlay S.C., Prof Frank Convery, Prof Palmer Newbould.
Serving the Public
Dr Peter Foss took up the role of Chairman of the IPCC late in 1986 and under his leadership, the IPCC grew into an independently funded and thriving conservation organisation which has made its mark in the nature conservation history books of Ireland. The first member of staff of the organisation was employed in 1988 as Information Officer and worked from an office in Pearse Street rented from Trinity College Dublin. By 1990 both Dr Foss and Dr Catherine O'Connell were full time employees of the IPCC (the latter as Education Officer). Our growth necessitated renting bigger offices first in Lower Mount Street and then in Capel Street. Under the leadership of Dr Foss, the organisation's supporters increased to the thousands and its staff increased to four (Oscar Duggan in the role of Customer Care and Patrick Crushell (and later Noreen McLoughlin) as Conservation Officer). In this time four peatlands were purchased, four Peatland Conservation Plans were published, a peatland education programme was established and the Irish Government designated 250,000ha of peatlands as Special Areas of Conservation.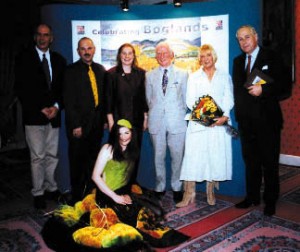 To mark the 20 year anniversary of the IPCC, it was highly appropriate for the organisation to publish "Celebrating Boglands" a beautiful anthology of prose, art, poetry, music and natural history to celebrate its achievements.
In the photograph shown (from left to right) are Matthijs Schouten, Peter Foss, Catherine O'Connell, Éamon de Buitléar, Pauline Bewick and His Excellency, Mr Jacobus van der Velden. Fiona Fallon seated.
To the Bog of Allen
The work, policies and finances of the IPCC are directed by a voluntary Committee of Management. One of the most challenging times for the Committee in the history of the organisation was the decision to purchase the Bog of Allen Nature Centre (formerly Peatland World) from Teagasc in 2003. So many issues were discussed in relation to buying this property and planning its renovation and use. The Committee voted in favour of the project and the property was purchased for €275,000 in October 2003.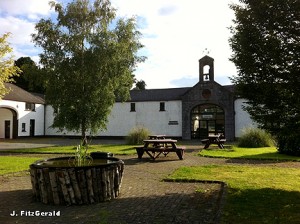 The Bog of Allen Nature Centre was purchased by IPCC in 2003. It is a centre of excellence for peatland education, conservation and research. © Photo: J. FitzGerald
Further changes came with the resignation of Dr Peter Foss from the staff early in 2004 and the appointment of Dr Catherine O'Connell as Chief Executive. Her role was to establish the Bog of Allen Nature Centre as a centre of excellence for peatland conservation, education and research. The team who moved to the Bog of Allen Nature Centre in June 2004 included Mary Mulvey as Centre Renovations Manager, Caroline Hurley as Conservation Officer and Oscar Duggan.
Consolidation
IPCC are experiencing a new phase of growth and development since the move to Kildare. The staff have increased to six with a new post of Gardener  being created. Currently Nuala Madigan is the Environmental Education Officer, Katie Geraghty is the Conservation Officer, Tristram Whyte is the Conservation Policy & Fundraising Officer. The volunteer contribution to the organisation has grown exponentially.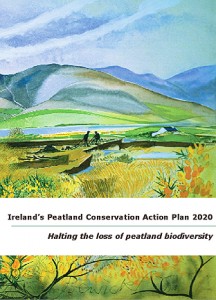 We have 100 regular volunteers with at least 10 of them offering one or more days work per week at the Nature Centre. Their contribution is worth five additional staff.
IPCC has established a network of peatland nature reserves which includes fen, raised bog and blanket bog habitats. The first site purchased was Fenor Bog in Co. Waterford. Two additional peatland sites were acquired from Bord na Móna in 2005 and are being managed for nature conservation by IPCC. One of these was extended with a purchase from a private land owner in 2009. Girley Bog in Co. Meath was purchased in 2013 and IPCC were donated Coad Bog in Co. Kerry in 2015. Renovation of the Nature Centre to provide administrative offices, nature conservation gardens, a research library and classroom have been completed. An educational experience for school and special interest groups visiting the centre is available. The sixth Peatland Conservation Plan 2020 for the Bogs of Ireland was published in 2009. A busy future is predicted.
Committee of Management
The achievements of the IPCC over the past 35 years have always been directed by our most dedicated volunteers who are members of the Committee of Management of the IPCC. Special tribute must be given to all of those who served on the Committee and made the decisions that have made IPCC what it is today.
IPCC Timeline
The major events, publications and sites saved between 1982 and 2017 by the Irish Peatland Conservation Council.
Year
Event

1982

IPCC formed




First Peatland Inventory for Ireland compiled

1983

European Parliament Resolution on the Protection of Irish Bogs passedDutch Foundation for Conservation of Irish Bogs formed

1984

International Mire Conservation Group formed

1985

Save the Bogs Fundraising Campaign launchedWetland Archaeological Research Unit established in UCD

1986

Clara Bog, Co. Offaly saved




IPCC publish the first issue of Peatland News




The Wild Boglands Bellamy's Ireland published

1987

Guide to Irish Peatlands & Rua the Red Grouse published
Irish Government declare a peatland conservation target of 50,000ha


Scragh Bog purchased

1988

1,100 entries in the first Save the Bogs Poster Competition 

1989 

WWF-UK fund the development of a Peatland Conservation Campaigner for Ireland




Sheheree and Ardkill Bogs saved

1990

Peatlands Park, Co. Armagh launched




International Mire Conservation Group tour Irish peatlands




Anti Moss Peat Peatlands Campaign Consortium founded




2,000ha of raised bog transferred from Bord na Móna for conservation




Wild Beauty of Bogs Expo Tour 

1991 

IPCC 's education programme is the national winner of the Ford Conservation Awards


Irish Peatlands the Critical Decade published

1992

Peatland Education Pack for post primary schools and Our Story published

Cummeragh River Bog purchase

1993

IPCC launches its Nature Shop (formerly Enviro Shop) to raise funds for bog conservation


Lough Boora Parklands on Cutaway bog established

1994

Peatlands in the Primary School Curriculum published


Kerry Bog Pony rediscovered by John Mulvihill of the Kerry Bog Village

1995 

IPCC launch a 10 year teacher training programme on bogs into the classroom entitled Wake Up to Bogs


Clochar na gCon Bog purchased

1996

IPCC's web site launched at www.ipcc.ie

Bogs of Ireland published by UCD's Environmental Institute

1997

Peatlands 2000 Conference held

Irish Government begin to designate 250,000ha of peatlands as Special Areas of Conservation

IPCC Guide to Community Composting & The Save the Bogs Story published

IPCC co-ordinate the first Hop To It National Frog Survey

1998

Towards a Conservation Strategy for the Bogs of Ireland & The IPCC Peatland Management Handbook published

1999

Fenor Bog Co. Waterford purchased in partnership with Móin Fhionnurach Development Association

2000

IPCC undertook a fen inventory of Ireland and published the results

Cutover and Cutaway Bogs Education Pack published

2001

Bogs and Fens of Ireland Conservation Plan 2005 published

Raised Bog Study Tour and Conference held

IPCC join the Irish Environmental Network

2002

Celebrating Boglands published to mark 20 years of IPCC's work


NGO SAC Shadow List of Conservation Worthy Sites published by IPCC

2003

Bog of Allen Nature Centre, Co. Kildare purchased


IPCC launched a national training programme on garden composting

2004

IPCC undertook a survey of the Bog of Allen in Kildare and Offaly

2005

Lodge Bog and Lullymore West Bogs donated by Bord na Móna to IPCC for conservation.

Conservation Management Plan published for Lodge Bog

2006

IPCC launched an exhibition highlighting co-operation between the Dutch and Irish people in conserving bogs

Conservation Management Plan published for Lullymore West Bog

2007

IPCC celebrate 25 years of saving bogs at the Bog of Allen Nature Centre

Butterfly monitoring transect established on Lullymore West Bog

2008

IPCC's Chief Executive is appointed the Chair of the Irish Peat Society, the national committee of the International Peat Society

IPCC purchase an additional 9 acres in Lodge Bog

Guide to Composting, Wildlife Gardening and Sustainable Living published
IPCC nominated a centre for Discovering Primary Science
IPCC purchase another portion of Lodge Bog, Co. Kildare

2009

IPCC join the Environmental Pillar of Social Partnership

IPCC publish its sixth action plan for peatland conservation in Ireland entitled Ireland's Peatland Conservation Action Plan 2020
Bogland – a Future in Ireland Exhibition launched

IPCC appointed as a Consultant on the EPS Stop Food Waste Campaign

Visitor Guides to IPCC's Nature Reserves in County Kildare published, 

IPCC begin trials of the Canadian Sphagnum moss transfer method of raised bog restoration

2010

IPCC publish Nature Box – Irish Habitats and Wildlife during International Year of Biodiversity




I

PCC launch an upskilling course for the general public focusing on best practice monitoring, management and measuring of Irish habitatsMet Éireann Weather Station established in the Bog of Allen Nature Centre, Lullymore

2011

IPCC are appointed to the Peatlands Council by Government




IPCC a tutor on the SEAI Schools Energy Programme. IPCC publish a Conservation Management Plan for Lodge Bog

2012

IPCC celebrate 30 years at the Bog of Allen Nature Centre


IPCC launch a new-look modern web site at www.ipcc.ie

2013

IPCC purchase part of Girley Bog in Co. Meath

2015

IPCC are donated Coad Bog in Co. Kerry

2016

IPCC begin a conservation programme for breeding Curlew on Lodge Bog in Co. Kildare

2017

IPCC publish a management plan for Coad Bog in Co. Kerry and introduce grazing by donkeys to enhance the breeding habitat for marsh fritillary butterflies on Lullymore West Bog in Co. Kildare. IPCC celebrates 20 years of the National Hop to It Frog Survey
IPCC celebrates 30 years since our foundation on International Bog Day 2012. Click on this link to see photographs from our birthday.
Text, Photographs and Images © Irish Peatland Conservation Council, Bog of Allen Nature Centre, Lullymore, Rathangan, Co. Kildare.  Email: bogs@ipcc.ie; Tel: +353-45-860133.