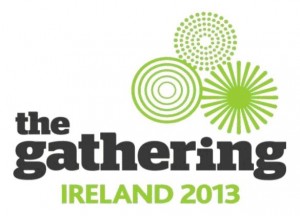 The Gathering Ireland 2013 was an opportunity not only to bring people together in Ireland, but to gather up and cherish their memories of this land. Many people have strong memories of days spent in the bog. During The Gathering Ireland 2013, the Irish Peatland Conservation Council  collected these memories to share with our friends and supporters all over the world. What a wonderful spoken heritage they are of our bogs. Enjoy.
Take Part Anytime: Share your Bog Memories
Take part in our bog memories collection. Just email your bog memories to bogs@ipcc.ie. Thank you.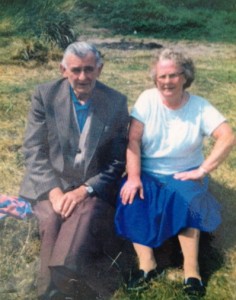 Anne Sweeney from Monasterevin, Co. Kildare shared the memory of how her parents met in the bog.   'It is was the summer of 1945 a young Paddy Sweeney from Toe Head in West Cork moved to Kildare for the summer to save turf on Roseberry bog just outside the town of Newbridge, Co. Kildare.  Leaving his family behind he began work on the bogs.  One afternoon himself and his colleagues spotted a young woman and her mother traveling on an ass and cart home from their day spent saving turf.  For entertainment the boys began to throw sods of turf at the woman and one sod that Paddy threw hit the young woman, Nancy Lynch.  It was a few days later when Nancy and her mother were walking down the main street of Newbridge when they bumped into Paddy and history was written.  Paddy and Nancy (see photograph above) married in the summer of 1947 in St. Conleth's and Marys church in Newbridge.'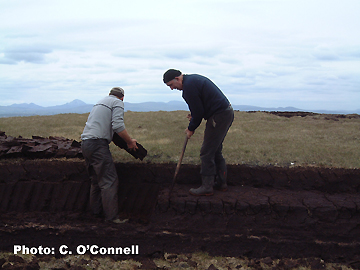 "My first memory of the bog is going to cut turf with my cousins in Tipperary. I watched as the top layer of the bog was cut away. Then my cousin said 'catch this' and he threw up this sod. I caught it and my fingers went into it and I screamed 'Oh it's soft'. I was so amazed, I thought it should be hard. I have never forgotten my first visit to the bog." Bog Memory from Maureen Collie
" My memory of bogland is the wildlife- mink, rabbit, hare, fox, the bird life especially, the sound of the snipe, the heather and bog cotton. The activity with turf cutting – I saw my first kingfisher in a bog and enjoyed watching the progress of the frog spawn develop. The air was so fresh and unpolluted. There people were wonderful."
Bog Memory from June Power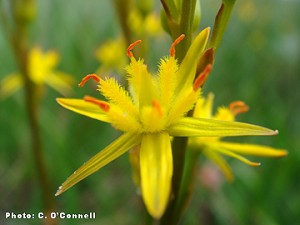 Bog Memory
from N. Cottam
Over many Connemara holidays,
my memories are of families cutting,
footing and stacking turf
into a flat barrow and
donkey with creels carrying the sods.
I love the sight of bog cotton.
Bog Asphodel is one of my favourite flowers.
"Going down to Tullamore we passed the Bog of Allen. You could make lovely things from bog cotton. It's lovely and white and soft. Maybe some day I will go down again and pick some." Bog Memory from Tess Steedman
"My childhood summers were spent helping my father as he hand cut turf in the moss (bogland) near our North Antrim home! However, he had a deep love and respect for the boglands and we grew up with a sense of the 'intrusion' that our fuel source was on the bogs. He showed us the wildlife there and taught us to be respectful of the area. He used to re-carpet the cut bog with the sods he removed from the surface." Bog Memory from Margaret McAuley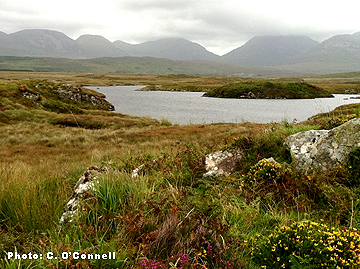 "The colour of Connemara in the Autumn is a memory I carry with me whenever I travel and I have yet to see anything to match it's beauty." Bog Memory from Anne Robinson
Bog Memories
from Margaret Madden
Sweet smell.
Crunch of heather and bracken under your feet.
The wind blowing through birch trees, beautiful swishing noise.
The lovely soft bog cotton.
My father cutting turf with a slane and us as young children drawing the sods away from him.
The flask of tea and the kettle boiling on the bog fire.
" I love the wildness and unpredictability of a bog. The colours are subtle but very memorable. A bog is beautifully understated." Bog Memory from Laura Swift
"I remember lying on my back in the heather in the bog at Abbeyderg,
County Longford. Watching the larks rising while the workmen cut the turf."
Bog Memory from Joy Armitage
"I had a brilliant day at the bog. And while I was there I collected a log. There were plants, animals and fossils too. I didn't want to see this but there was also pooh! I was never on a bog before. It was a good experience and much, much more." Bog Memory from Jenny Abbott
Bog Memories
from Brian Harten

The silence and the breezes.
Dark browns and russets.
Smells of heathers,
roots and orchids.
Dripping of water.
The thirst of a long day on the bog.

Bog Memories
from Paddy Leonard

As a child wandering freely
through the country and bogs.
The sound of the skylark.
The smell.
The school summer holidays
that seemed to last forever.
"I was born and reared in Castlepollard, Co. Westmeath where we had lovely bogs on every side of us. As kids we picked frochans (like small blueberries) and saved turf, and later with my Dad and a pointer dog we searched for grouse." Bog Memories from Dermot Kelly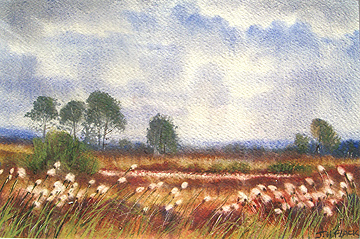 "I am an artist and much of my work is centred on the landscape
and flora of the Irish bogs, which I have always dearly loved
and from which I find continual inspiration for my work.
I live near to a beautiful bogland area – Blackwood Bog –
where my wife and I go continually for walks."
Bog Memory and Watercolour Painting from James H. Flack
"On the bog the lovely wind blowing. Beautiful wind on the bog always. And you were alone. Oh it was magic, magic, I tell you." Bog Memory from Imogen Stuart
"In the 1970s as an emigrant in England, I used to transport a few peats each year to burn in my hearth, for the pleasure of recalling the scent of rural Ireland. But I also learned the true value of peat – that left where it belongs, it is worth far more to the planet, to Ireland, and to me." Bog Memory from Ralph Sheppard
"I remember as a kid growing up in the city. Every summer we would dig our own turf. While I found the work hard I loved the surroundings especially on a fine day. Then as I got older I found other uses for the bogs like scouting activities and hill walking." Bog Memories from Deirdre Foley
"I helped my parents to save turf cut by sleán back in the 1930's, to foot and wheel the turf and have lovely tea in the bog." Bog Memory from May Scanlon
Memories of a Day Out in the Bog of Allen
from Anne Whelahan
Exceedingly wet but soft and welcoming even when collapsed in bog hole.
Surprising dearth of birds but such delightful mosses and other plants.
Loved the springy earth moving sensation of the bog.
"I remember the excitement of finding my first sundew as a child and the challenge of finding one on every wet mountain walk ever since then." Bog Memory from Anne Robinson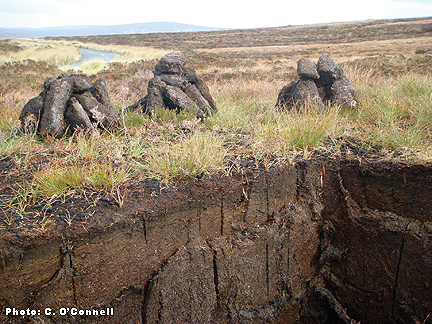 "I grew up in Arklow, Co. Wicklow beside a riverside marsh and frequently visited the Wicklow mountains as a child. Father liked to fish for trout in the mountains.
I have fond memories of the sights of Irises and bog cotton;
the sounds of wild geese and curlews and of turf."
Bog Memories from Audrey Lee
"I fell in love with bogs, and had a highlight a few years ago listening at sundown to the unique inimitable 'drumming' of a snipe, descending into the reeds of the fen water. Magical." Bog Memory from Inez Leo
"Three of us went down to the bog. We were surveying all the different plants and creatures there. There was loads of moss and bog cotton and small flowers.
Lots of heather too. Some parts of the bog were really wet and easy to sink into
and other parts were so dry the bog was cracking under your feet."
Bog Memory from Kate Macnamara
"I got to love the bogs for their beauty from farming with my father in the mountains of West Cork and pursuing my hobby of hill walking in the mountains of West Cork and Kerry." Bog Memory from Con Hurley
"We poked away at the wet peat around the bog wood tree stumps, when all of a sudden, little tongues of orange and blue flames sneaked out!
Little 'will 'o the wisps, and in broad daylight too!"
Bog Memory from Rosaleen Dwyer
"I remember our holidays driving around the outer parts of the bog. I have two small pieces of bog oak, treasured for years. Bringing happy memories back. These would be very old, older than myself!" Anonymous Bog Memory
"I remember gathering Sphagnum moss during the Second World War.
Greeny Yellow. Patriotic!"
Bog Memory from Jean Smart
"My memory of a bog is going for walks for exercise with our dog. This was at all times of the year including winter when there would be ice on the pools of water. There would usually be some wild life – birds of prey, mink and frogs." Bog Memory from Ivor Power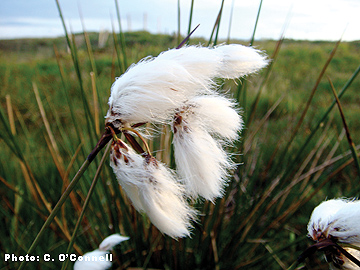 Bog Memory
from Críostóir Ó h'Éidirscéoil
As a youth,
I remember wandering
for hours on the bog,
hearing the piercing cry of the curlew,
smelling the fragrant perfume of the orchids
and the soft touch
of the Bog Cotton on my fingertips.
"I love the sheer wilderness of bogs." Bog Memory from Eric Conroy
"Living in Tullamore and having belonged to the walking club for over 20 years, we often walked the bogs." Bog Memory from Máire Nic Aoidh