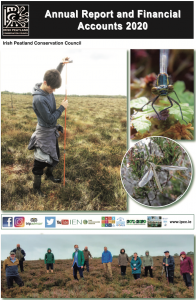 The Committee of Management are delighted to present the Annual Report and Financial Accounts of the Irish Peatland Conservation Council for 2020.
2020 was an unprecedented year with the COVID-19 pandemic affecting all sectors of Irish society.  Being confined to our homes has helped us to see, hear and enjoy wildlife even more. Despite the challenges of Covid-19 it has been a successful year for bogs and their wildlife.
A new draft Peatlands and Climate Change Action Plan 2030 was prepared to compliment the Irish Peatland Conservation Council's Biodiversity Action Plan 2010-2020. A peatlands and carbon research project undertaken by the Irish Peatland Conservation Council to estimate the carbon stored on an area of cutover land at Girley bog, Co. Meath provided scientific evidence of the value of peatlands as carbon stores.
Publications included a new Peatland Habitat Assessment Guide, to support peatland custodians nationwide understand the condition of their local peatland habitat. The guide provides recommended restoration methods that can improve the peatland habitat ecosystem services.
With travel restrictions in place the charity adapted and designed online lessons and resources for teachers and pupils in order to continue to raise the profile of the value of Irish peatlands.
The voluntary Committee of Management held 8 meetings in 2020. Covid-19 restrictions resulted in a move from physical meetings to virtual meetings. Our work included regulating IPCC's finances and operations, monitoring health and safety, facilitating an audit of our finances and ensuring compliance with the Charities Regulator Governance Code.
Committee of Management IPCC: 
Rachel Kavanagh, Martin Kelly, Kate Macnamara, Miriam Mooney,  Catherine O'Connell, Tiernan Murray, John G Pierce and Seán Ó Fearghail
Archive Accounts
Contact Details
The Irish Peatland Conservation Council can be contacted at the Bog of Allen Nature Centre, Lullymore, Rathangan, Co. Kildare, R51 V293, Ireland.
Tel: +353-45-860133; Email: bogs@ipcc.ie