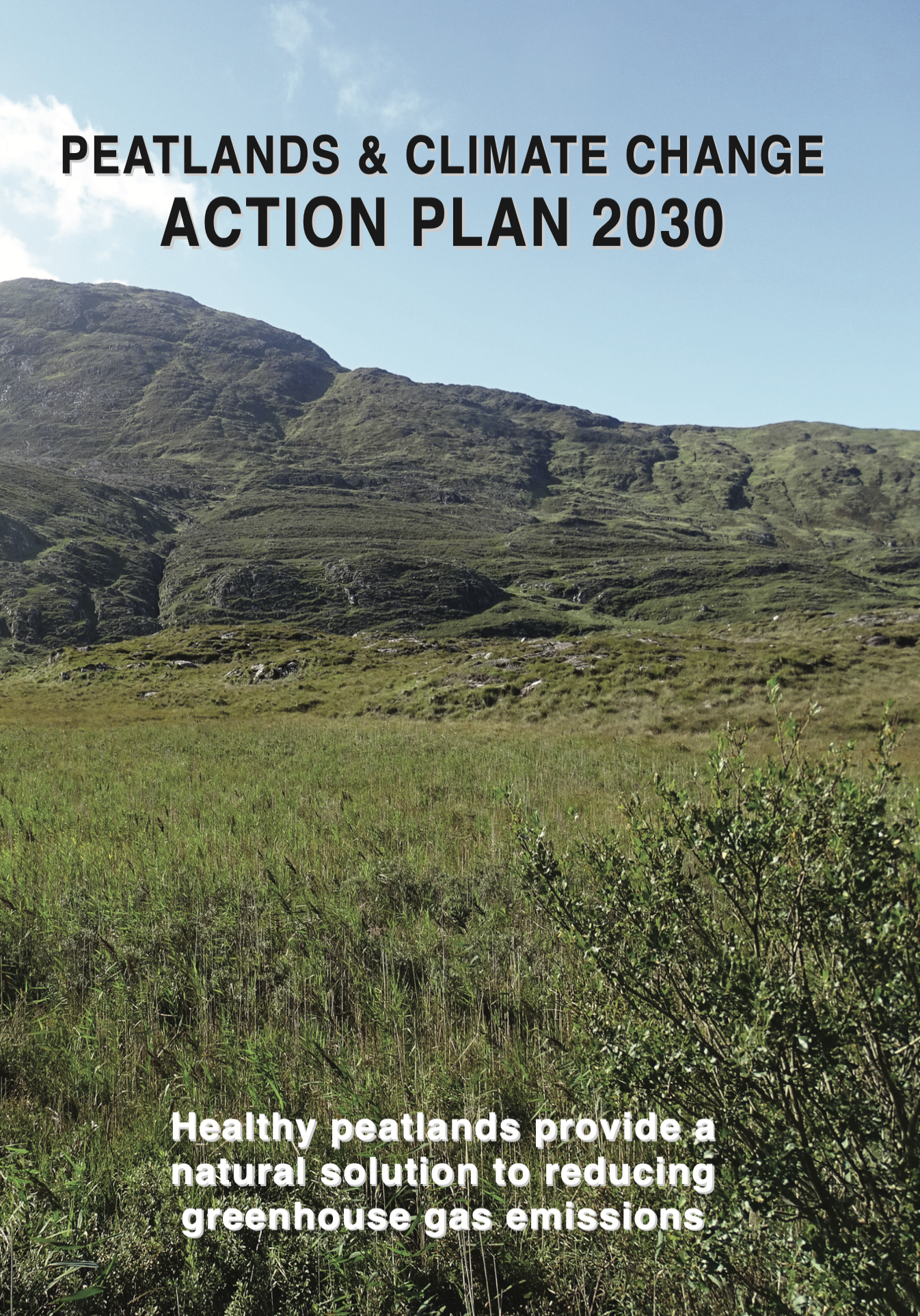 In 2019 Ireland declared a climate and biodiversity emergency. The government has acknowledged that our country needs to act with urgency on the causes and impacts of climate change. Peatlands are highly significant in the global efforts to combat climate change. The protection
and restoration of peatlands is vital in the transition towards a climate resilient and climate neutral economy. To assist in the implementation of climate action plans, the Irish Peatland Conservation Council have developed this plan of action focusing on peatlands. Depending on how we manage our peatland resources they can strongly contribute to the climate crisis or they can support climate mitigation plans and international biodiversity targets.  The overall aims of this action plan are to ensure the protection of peatlands currently in good condition and supporting their range of ecosystem functions and to enhance the resilience to climate change of the entire
country's peatlands through management, funding, education and collective effort.
This action plan seeks to address a number of relatively simple questions that people ask in any discussion about peatlands and climate change. It is difficult to give precise answers to questions. Using as much information as possible and from our practical experience in in peatland protection the Irish Peatland Conservation Council offers answers to the  following questions:
How much carbon is stored?
How much CO2 is sequestered in peatland?
How much greenhouse gases are coming off Irish peatlands?
How much carbon can be saved by restoring peatland?
What's involved in restoration?
What are the restoration costs?
What state are peatlands in?
What policies need changing to protect peatlands?
What actions are needed?
Previous peatland Action Plans produced by the Irish Peatland Conservation Council only considered peatland sites of conservation importance. Over 1,000 sites are monitored by the Irish Peatland Conservation Council and we have a database of information about them. As the majority of peatlands in Ireland are man-modified, they all contribute to greenhouse gas emission. A continuum of site condition exists from those with bare peat through forested and grassed peatlands right through to those that may be drained but with vegetation cover and finally to those that are pristine. How all of these sites are managed has a bearing on the management of greenhouse gas emissions and this is given treatment in this action plan.
Study & explore Peatlands & Climate Change Action Plan 2030:
Peatlands & Climate Change Action Plan 2030 pages 0-15
Peatlands & Climate Change Action Plan pages 16-25
Peatlands & Climate Change Action Plan 2030 pages 26-34
Peatlands & Climate Change Action Plan 2030 pages 35-37
Citation
O'Connell, C. A., Madigan, N., Whyte, T. & Farrell, P. (2021) Peatlands and Climate Change Action Plan 2030. Irish Peatland Conservation Council, Co. Kildare
Purchase
Copies of both Ireland's Peatland Conservation Action Plan 2020 Halting the Loss of Peatland Biodiversity and Peatlands & Climate Change Action Plan 2030 may be ordered from the Nature Shop
Thank you


IPCC would like to thank Patagonia for supporting  the promotion of the Peatlands and Climate Change Action Plan 2030