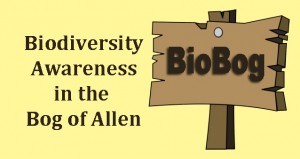 Welcome to the Irish Peatland Conservation Council's BioBog Project.
BioBog is a comprehensive biodiversity awareness programme focusing on the Bog of Allen Region. The wealth of wildlife present in the Bog of Allen is just one great reason for you to visit this wonderful area. BioBog includes the Lullymore Biodiversity Trail of sites to visit and things to do and a Schools Programme. There are also Video Tours you can link to before you visit.
Please follow the project links from this page.
Video Links
Bog of Allen Nature Centre: Individual, Group and School Visits Virtual Tour
IPCC's BioBog Programme is supported by: