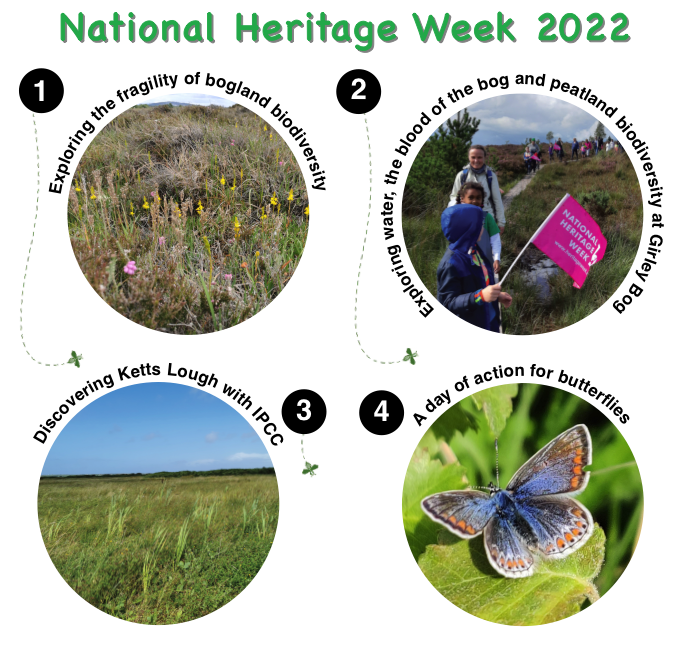 Press Release
Celebrating National Heritage Week 2022 with IPCC
9th August 2022
Celebrate National Heritage Week with the Irish Peatland Conservation Council (IPCC) by joining one of our events. National Heritage Week will be celebrated from the 13th to the 21st August to promote awareness about our built, natural and cultural heritage. IPCC will be show-casing our work to protect and conserve a representative portion of peatlands in Ireland including ongoing peatland related projects and peatland management. Why not join us to celebrate peatlands and learn about the fascinating animals and plants that call them home. A full list can be found below.
Explore the fragility of bogland biodiversity on the 13th August from 11-1pm with a walk and talk to Lodge Bog, a local raised bog nature reserve. Learn about the means to conserve a peatland that was once drained, and all conservation works to date as well as the common plant and animal species found here including the Curlew. During the talk, IPCC will discuss an ongoing project to develop a list of peatland species that are of importance or threated for members of the public to access easily in the future for the County of Kildare. The meeting point is at the Bog of Allen Nature Centre in Kildare (Eircode found below). This is a family friendly event which will be held outdoors so please dress for the weather. The Bog of Allen Nature Centre will be open for guided tours also.

 

On the 14th August from 2-4pm, join IPCC where we will be Exploring water, the blood of the bog and peatland biodiversity at Girley Bog in Co. Meath. This free family friendly event will take you on a guided walk and talk across the raised bog nature reserve looking at the local biodiversity and to discuss some of the findings of a recent biodiversity survey supported by Meath County Council. Expect to see the native insect eating plant Sundew and bog birds. Learn about the importance of water storage within a peatland habitat, how the water table is measured and IPCC's ongoing project supported by the Peatlands Community Engagement Scheme to re-instate water level monitoring after recent rehabilitation works. Please dress for the weather and peatland terrain. Sun cream, a hat, rain jacket and insect repellent are also advisory. We are meeting at Girley Community Hall (drive past Causey farm) however, parking is limited here. Alternatively, you may find parking at the Church carpark and walk to Girley Hall where we will be waiting.
Discovering Ketts Lough with IPCC is an online social media video which will go live on the 15th August at 10am to celebrate IPCC's acquisition of the transition mire habitat in Co. Clare. The video will showcase the spectacular peatland including aerial drone footage of the site capturing the open water lake within the site. This video will be uploaded to IPCC's YouTube Channel and scheduled for sharing on IPCC's social media accounts including facebook, Twitter and Instagram. Please ensure to follow.
On the 16th August from 10-1pm, IPCC are hosting a Day of Action for butterflies on Lullymore West, a local butterfly nature reserve. Are you interested in learning about our native butterflies and how to manage a site for them? Learn how IPCC manage Lullymore West for 26 out of the 35 native butterfly species and get involved in helping to remove scrub saplings encroaching on the grassland. This event will provide you with the information and tools to manage your local area for biodiversity and butterflies and how donkey grazing has benefitted the grassland. The Bog of Allen Nature Centre will also be open for guided tours and pond dipping. This is a family friendly and free event however, it also involves the use of garden shears/loppers. Please dress for the weather and the use of insect repellent is advised.
Finally, on the 19th August from 2-4pm, IPCC are collaborating with artist Martina to host a walk and talk to Lodge Bog to showcase imagery take from the bog over different times of the year to display the changing landscape from different seasons and to track climate change. Please dress for the weather and boggy terrain. Meet at the Bog of Allen Nature Centre.
IPCC's Conservation and Education Officer Paula Farrell has this to say 'Heritage Week is an incredibly important event which IPCC takes part in annually to link with locals and members of the public interested in peatlands. It is a time where we focus on peatland heritage, species and we raise awareness through engaging events and activities. Be sure to join one of our many events this year'.
More information on upcoming events can be found on www.ipcc.ie/events/ or on www.heritageweek.ie. These events are kindly supported by Meath County Council and Kildare County Council through the Community Heritage Grant Scheme 2022, The Heritage Council through the Heritage Council Capacity Support Fund 2022, the Peatlands Community Engagement Scheme and Kildare County Council Festival Grant 2022.