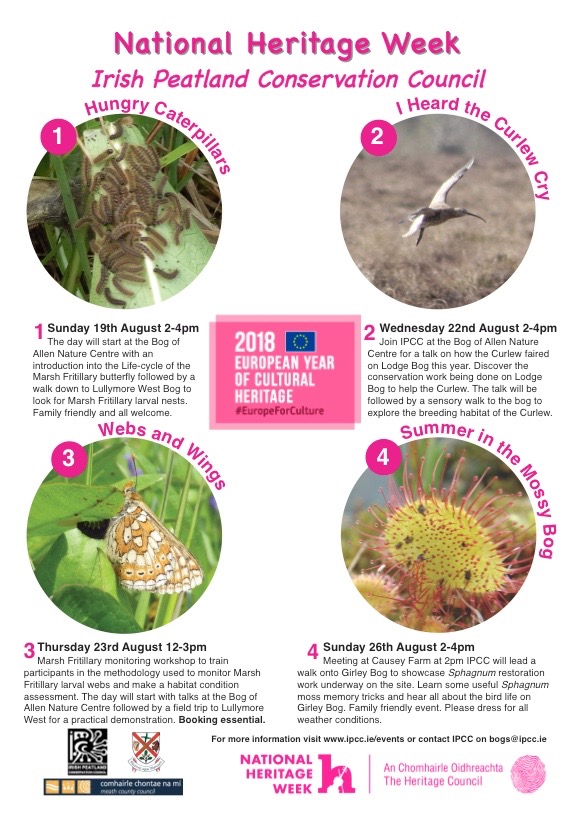 15th August 2018
Bogs a flutter for heritage week
The bogs of Meath and Kildare will be a flutter with activity during Heritage Week 2018.
The Irish Peatland Conservation Council (IPCC) will be connecting people with nature during their four events taking place for Heritage Week.
2018 is the European Year of Cultural Heritage and the theme for Heritage Week in Ireland is 'Make a Connection' which aims to deepen the connection between people and heritage and build a legacy of increased public awareness.
The first 'Hungry Caterpillars' event will take place on Sunday 19th of August at the Bog of Allen Nature from 2-4pm and will tell the story of the rare and threatened Marsh Fritillary Butterfly and the efforts being made to protect the species nationwide.
'I Heard the Curlew Cry' event will take place on Wednesday 22nd of August from
2-4pm at the Bog of Allen Nature Centre. This event will tell the dramatic story of the Curlew on Lodge Bog, Co. Kildare and the dedicated efforts of IPCC staff, volunteers and local landowners to help protect the species and help them successfully rear young.
On Thursday 23rd August the 'Webs and Wings' Marsh Fritillary workshop will train participants in the methodology used to monitor Marsh Fritillary larval webs and conduct a habitat condition assessment. The event will start with lectures at the Bog of Allen Nature Centre followed by a field trip to Lullymore West Bog for a practical demonstration. This will be a technical training day so booking is essential. You can book your place by contacting Katie at bogs@ipcc.ie or call 045 860133.
'Summer in the Mossy Bog' will round off the week at Girley Bog in Co. Meath. IPCC will lead a walk leaving from Causey Farm, Fordstown, Co. Meath at 2pm. The walk will explore  Girley Bog and showcase the Sphagnum moss restoration work underway on the site.
These events will build awareness for Ireland's peatlands and the wildlife that they support fostering a sense of pride in these beautiful natural heritage sites.
To learn more about these events or to book a place visit www.ipcc.ie/events or contact IPCC at bogs@ipcc.ie or call 045 860133.
ENDS
Editor's notes:
All Heritage Week events are funded by the Heritage Council.
The 'Webs and Wings' event is supported by Kildare County Council under their Heritage Grant Scheme 2018.
The 'Summer in the Mossy Bog' event is supported by Meath County Council under their Community Heritage Grant Scheme 2018.
IPCC is an environmental NGO and registered charity (CHY 6829). The aim of the organisation is to conserve a representative sample of Ireland's peatlands for people to enjoy now and in the future.