Press Release 14th September 2015
Bread Baking in a Bastible on a Fire for Culture Night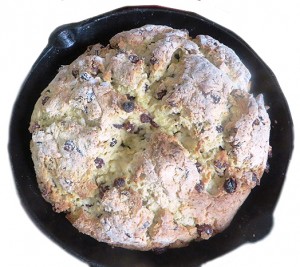 Culture Night will be celebrated across Co. Kildare on Friday 18th September. Between 5-8pm the Bog of Allen Nature Centre will be taking part in this fantastic initiative by opening its doors for free for members of the public to come and explore our peatland heritage and its association with the 'ways of old' in the peatland exhibition centres traditional Irish kitchen.
The fire was the heart of an Irish home offering warmth, light in the evenings and a means of cooking food.  With nostalgia many of us look back at this time with fond memories.  However baking and cooking food over a fire was a skill, if the fire was too hot the food would burn and not enough heat would leave food undercooked.  Join the Irish Peatland Conservation Council and discover how a dough made from simple ingredients of floor and buttermilk baked over the fire in an iron bastible pot provided Irish families with a delicious cake of soda bread.
Those taking part in culture night at the Bog of Allen Nature Centre can also expect guided tours of the peatland exhibition and wildlife gardens. No day on the bog would be complete without a cup of tea and slice of soda bread and jam so join the Irish Peatland Conservation Council and remember family life before electricity and share your memories of traditional living with younger members of our community today.
Editors Notes:
Culture Night is supported by the Department of Arts, Heritage and the Gaeltacht in partnership with RTE Supporting the Arts and Kildare County Council.