Have your say in the future of Ireland's Blanket Bogs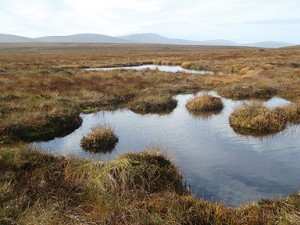 There is currently an alarming policy gap in relation to blanket bog habitat and biodiversity protection in Ireland. Much work has been done on raised bogs with the cessation of turf-cutting and the production of a raised bog SAC Management Plan. However blanket bog conservation is yet to be seriously considered and the issues facing the habitat and its biodiversity continue to erode the precious remnants of habitat we have. With 8% of the global area of blanket bog occurring in Ireland, we are a crucial international location for this habitat and we need to think about its future management now. Turbary, mechanical cutting, overgrazing, land reclamation, burning and forestry have resulted in the loss of 72% of the original area of blanket bog in Ireland. The remainder needs immediate and productive action.
IPCC are embarking on a significant advocacy campaign to ensure that blanket bogs are highlighted as a national issue, to encourage policy makers and local communities to take ownership of these habitats and to ensure the preservation of the unique biodiversity that blanket bogs support for future generations.
"Our first goal is to build up site specific information" says Tadhg Ó Corcora, Conservation Officer with the IPCC. "We are asking all users of blanket bog habitat (land owners, stakeholders, recreational users and ecologists) to become citizen scientists and help us compile an information bank on the plants, animals and uses of blanket bog habitat across Ireland. This will allow us to fully appreciate the current situation on blanket bogs and will be invaluable in guiding future policy for this unique landscape" he continued.
If you have visited a blanket bog recently or are a regular visitor to any site IPCC are asking you to fill in their blanket bog questionnaire available at  https://www.surveymonkey.com/r/G93JXRX and have your say on what needs to be done for Ireland's blanket bogs. This will also mark the beginning of an on-going campaign where you can submit site records for any blanket bogs you visit over the next number of years. The short survey should take only 3/4 minutes but will provide invaluable information for the future planning for blanket bogs. If you would like to submit any images of your site record please forward them to bogs@ipcc.ie. Should you have any questions contact us on 045-860133.
Take the chance now to have your say and be part of the future of Ireland's blanket bog habitat.
This initiative is supported by the Irish Environmental Network as well as Wicklow County Council and Donegal County Council through the Local Agenda 21 Environmental Partnership Fund 2016.