PRESS RELEASE: 26th January 2016
Irish culture, its traditions and connection to wetlands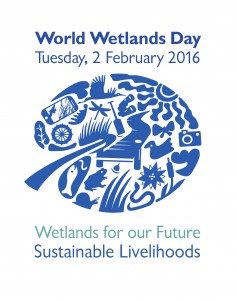 The month of February brings with it the start of Spring, a busy time at the Bog of Allen Nature Centre. In the first two days of February we will be celebrating St. Brigid's Day and World Wetlands Day.
St. Brigid is the patron saint of County Kildare and World Wetlands Day celebrates the importance of wetland habitats and the sustainable services that they provide. Although these too days are not considered to be connected there is in fact a connection between St. Brigid, the Curragh and Pollardstown Fen, one of the most important wetland sites in Ireland.
The legend of St.Brigid tells how in 480AD she was intent on building a monastery in County Kildare. When she asked the King of Leinster for the land on which to build the monastery the King laughed dismissively and told her he would give her as much land as her cloak could cover. As she spread her cloak over the ground it miraculously spread and covered the area of the Curragh. The Curragh is the largest non fenced area in Ireland and the underground aquifer below supplies the water to Pollardstown Fen, the largest fen in Ireland and an extremely important, rare  and internationally recognised wetland site. Pollardstown Fen in turn is a feeder of theGrand Canal, also an important wetland and amenity area. The canal feeds into the River Shannon which runs into the vast Atlantic ocean. This shows how deeply connected Ireland's wetlands are with its traditions and cultures.
On February 2nd join the IPCC at the Bog of Allen Nature Centre from 10am – 4pm and celebrate World Wetlands Day. You can follow the new Museum and Garden Trails and learn the importance of Irelands wet peatland habitats and the role they play in water regulation, climate change, biodiversity and human wellbeing. Also throughout the month of February the IPCC will be celebrating St. Brigid by making St. Brigid's crosses at the  Bog of Allen Nature Centre. Why not join us and learn this traditional craft and make your own St. Brigid's cross to protect your home from fires and infectious diseases. You can also learn how to make a St. Brigid's cross by visiting  Making a St Brigid's Cross
"Join the IPCC  for World Wetlands Day and discover the importance of  wet peatland sites such as Pollardstown Fen and Lodge Bog. These sites are not only beautiful and full of rare and unique wildlife they are also provide a range of important services such as water regulation and carbon storage" says Katie Geraghty IPCC's Campaign Officer.
END
Editer's notes:
The Bog of Allen Nature is a fun family day out, there are plenty of nature activities for children including pond dipping for mini beasties and frog and newt searches in out wildlife gardens. The centre is open Monday-Friday from 10am-4pm all year round with a range of special events throughout the year.
For further information please contact:
Katie Geraghty, Campaign Officer bogs@ipcc.ie