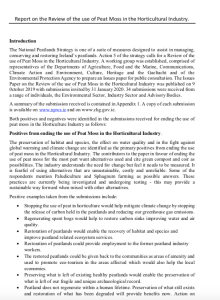 Press Release
While The Horticultural Industry Talks about Change, Habitat and Wildlife Destruction Continues
Date: 18th September 2020
The Irish Peatland Conservation Council (IPCC) need to see an end to the use of peat within the horticultural industry. The practice of peat extraction leaves behind open brown mines degrading our air, water and wildlife. There is little environmental regulation in this industry and horticultural peat extraction has directly contributed to the near-extinction of key Irish species such as the wonderful wader – The Curlew.
The recently published report on the Review of the use of Peat Moss in the Horticultural Industry Public Consultation has recommended that a working group is to be established including Government Departments/State Agencies, Industry Stakeholders and environmental Non-Governmental Organizations.
The IPCC made a submission on the public consultation highlighting the fact that there is no carbon tax being paid on the ¾ of a million tones or more of horticultural compost being exported or millions of bags of compost being sold to gardeners, that the majority of companies operate outside of planning and licensing and the destruction of the Irish landscape unnecessarily.
"While a dialogue channel is opening, it can not be seen as a success until real change is witnessed. Ireland's natural environment has suffered without a voice and while talk emerges the mining still continues" – says Tristram Whyte, Conservation Policy Officer with the Irish Peatland Conservation Council.  You can view the final report at https://www.npws.ie/news/review-use-peat-moss-horticulture-final-report-now-available