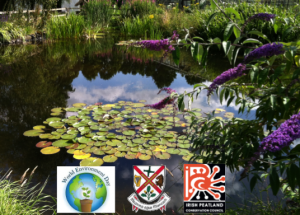 PRESS RELEASE
Date: 1st June 2017
Stepping Stones to a Greener Garden
The Bog of Allen Nature Centre will be celebrating World Environment Day on June 6th and you are invited to come along between 10am-4pm and discover how you can create a greener garden for your home.
World Environment Day is an initiative of the United Nations that aims to raise awareness and encourages us to take action for the protection of our environment.  The Irish Peatland Conservation Council are celebrating this international day as part of Féile an Dulra an annual festival of nature held at the Bog of Allen Nature Centre supported by Kildare County Council.  This free event will guide visitors through the stepping stones for creating a wildlife friendly garden.  It will include tips on how to compost, rain water harvest and create habitats to increase the diversity of wildlife using your garden.  Throughout the day get hands on by dipping for the variety of freshwater life in the ponds at the centre, search for frogs and newts under the cryptozoic traps hidden within the long grasses and watch butterflies and bees come and source nectar from the variety of flowers that you can also choose to grow in your garden.
Michelle Walsh a student from Galway Mayo Institute of Technology who is currently carrying out a five week work experience at the Bog of Allen Nature Centre encourages you to come along and join her in exploring the wildlife gardens at the centre "I'm so excited for World Environment Day at the Bog of Allen Nature Centre and learning new tips and tricks to use in my garden at home this Summer.  Knowing how wildlife can support the natural control of pests in my garden, I'm looking forward to moving away from using chemical controls and creating a healthy garden".
If you cannot make Tuesday 6th June there will be plenty of opportunities this Summer to visit the Bog of Allen Nature Centre follow this link  where you will find a full list of events this Summer at the Bog of Allen Nature Centre.
Kildare County Council have supported Féile an Dulra through their Festival grant scheme 2017.