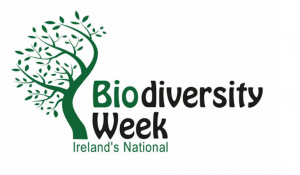 Press Release
13th May 2019
National Biodiversity Week is a week of learning and exploring the wonders of nature and biodiversity through walks, talks and wildlife experiences. It is about appreciating the valuable role wildlife provides to our communities and learning what we can do to protect nature. The Irish Peatland Conservation Council (IPCC) will be hosting four free family events celebrating the variety of wildlife in our communities during this week.
To begin the week long celebration of wildlife join the Irish Peatland Conservation Council on Saturday 18thMay for a Bog Biodiversity Experience on Girley Bog, Co. Meath. Meet Nuala Madigan, IPCC's Education Officer at Causey Farm at 2pm and enjoy a gentle walk to this wet and wild peatland habitat. Discover the fascinating ways that peatland plants and animals have adapted to live on the open bogland landscape. Expect to find insect eating Sundews and water holdingSphagnummosses and if we are lucky maybe even a hopping frog.
On Sunday the 19thMay 2019 the Irish Peatland Conservation Council will be hosting a second event at the Bog of AlIen Nature Centre, Co. Kildare between 2-5pm. This biodiversity event will celebrate Ireland's pollinators with a bee-tastic talk, relax with a cup of tea and learn simple ways you can help and encourage Ireland's flying Teddy Bears into your own garden. Once bee-educated enjoy a walk through the wildlife gardens in search of bees while they play hide and seek with us.
On Wednesday evening with the support of Waterways Ireland the Irish Peatland Conservation Council will be joining forces with Monasterevin Tidy Towns as we explore the diversity of life within the water and along the banks of the Grand Canal. Meet at the Grand Canal Aqueduct over the River Barrow in Monasterevin, Co. Kildare at 7pm on 22nd May. This walk and talk will not only take in the variety of life but also give you an opportunity to explore some of the history of the what is still described as one of Ireland's greatest engineering achievements, the Grand Canal.
The Irish Peatland Conservation Council will conclude their biodiversity week events back at the Bog of Allen Nature, Co. Kildare on Saturday 25th May between 1-3pm. The event will explore the variety of butterfly species in our local communities by taking a walk to Lullymore West bog home to over 20 different butterfly species throughout the year. Meet with Neddy and Lexi Lullymore's Conservation Donkeys and learn how their grazing is maintaining habitat for butterflies.
These events have been made possible with support from the Irish Environmental Network. You should be prepared for the outdoors by wearing comfortable clothes and strong footwear. Sun hats, sun cream and rain coats are also recommended as you never know how the Irish weather may change throughout the events.Come along and join the IPCC to improve your bee and butterfly identification skills and experience two wetland habitats in Ireland.
Editors Notes

Events on the 18th May, 19th May and 25th May are funded by the
Irish Environmental Network.

Waterways Ireland have funded the Grand Canal Walk & Talk through their 2019 events programme.