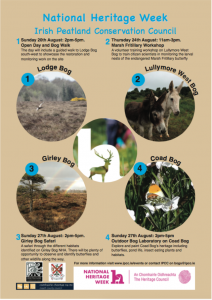 PRESS RELEASE
15th August 2017
Big award winning bog network opens to the public
The Irish Peatland Conservation Council (IPCC) are delighted to have been awarded funding of €28,500 from the Heritage Council in 2017. The award is to restore and enhance bogland habitats for wildlife including Curlew, Marsh Fritillary Butterfly and Large Heath Butterfly. To celebrate this prize the IPCC will be hosting four events during National Heritage Week 2017 in counties Kildare, Kerry and Meath.
IPCC will be taking an active part in National Heritage Week 2017 highlighting the difference the financial reward we received is making for wildlife.
'Heritage Week (19th-27th August) provides the perfect opportunity for IPCC to showcase the important conservation and education work that is taking place over our network of bogs. It allows IPCC to engage with the public and encourage people to get involved and become citizen scientists' says Katie Geraghty, IPCC's Conservation Officer.
The first of the IPCC events will take place between 2-5pm on Sunday 20th August at the Bog of Allen Nature Centre, Lullymore, Co. Kildare. This event will include a walk to Lodge Bog to showcase raised bog restoration. The IPCC with the help of dedicated volunteers have been working hard to block drains on Lodge Bog, restoring high water levels and enhancing the raised bog habitat for endangered species such as breeding Curlew and Large Heath butterfly (see note 1).
A Marsh Fritillary Workshop will take place on Thursday 24th of August at 11am at the Bog of Allen  Nature Centre, Co. Kildare. The event will improve the skills of the public in monitoring the endangered Marsh Fritillary Butterfly. Participants will get to meet Lexy and Neddy, two donkeys that have been grazing Lullymore West bog to help improve its attractiveness to butterflies.
On Sunday the 27th of August between 2-5pm IPCC will lead the Girley Bog Safari through the different habitats identified during a cutover bog survey on Girley Bog, Co. Meath undertaken over the summer (see note 2). On the same day IPCC staff will also be hosting an Outdoor Bog Laboratory on Coad Bog, Co. Kerry where participants will be encouraged to paint the heritage of Coad Bog and discuss the draft Management Plan for the site.
All of these events are funded by the Heritage Council, they are free and are open to the public. For more information please visit www.ipcc.ie/events or contact Katie at bogs@ipcc.ie
Editors notes:
1. This event is supported by Kildare County Council under their Community Heritage Grant Scheme 2017.
2. This event is supported by Meath County Council under their Community Heritage Grant Scheme 2017