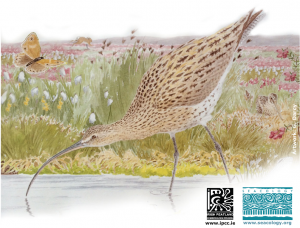 PRESS RELEASE
7th September 2017
IPCC Receive International Support for Curlew Conservation on Lodge Bog
The Irish Peatland Conservation Council (IPCC) based at the Bog of Allen Nature Centre in County Kildare have received international support from Seacology for their efforts to conserve peatland habitat for the breeding Curlew of Lodge Bog. Seacology is an international organisation that is committed to protect island habitats and assist local communities in their efforts to achieve this. Since 1991 they have supported 289 projects world wide and 1.3 million acres of some of the world's most vulnerable ecosystems.
The distinctive 'cry' of the Curlew was once a familiar sound echoing around the Irish countryside during the Summer months but sadly today the Curlew is one of Ireland's most threatened bird species. The National Parks and Wildlife Service have reported a 98% decline in Curlew populations since 1980 with less than 125 breeding pairs remaining in Ireland.
71% of the Irish native Curlew breed on peatlands. The Curlew feeds by probing its long curled beak into the wet peatland pools. As peatland habitats are freshwater they have the potential to freeze during the Winter months. To ensure they can continue to feed throughout the Winter the Curlew retreats to the coastline until the Spring before returning to the peatlands around Ireland to breed and rear their young.
Ireland has lost 80% of their peatland habitats and decline in Curlew populations can be directly linked to habitat fragmentation and even complete loss in breeding habitat due to the exploitation of Irish peatlands. The Irish Peatland Conservation Council have been monitoring Curlew on Lodge Bog since 2012. Each year the Curlew return but only this year with the help of the Kildare Branch of BirdWatch Ireland we confirmed breeding Curlew and even the hatching of a chick.
The Irish Peatland Conservation Council are committed to conserving a representative portion of Irish Peatlands for future generations to enjoy. With this international support from Seacology the IPCC will be continuing restoration works on Lodge Bog to ensure suitable habitat for breeding Curlew into the future and raising awareness of the plight of the Curlew in Ireland. Nuala Madigan, IPCC, Education Officer commented 'when I ask students what species are under threat from extinction I am often told about the polar bears and the penguins due to melting ice caps. If we don't act now the Curlew an Irish bird faces extinction by 2025. Through our education work and as a stakeholder group on the Curlew Task Force IPCC plan to raise the profile of the Curlew throughout the Island of Ireland and do all we can to prevent the extinction of this iconic peatland bird.'

Editors Notes:
Further Information contact IPCC on 045-860133 or bogs@ipcc.ie
The Irish Peatland Conservation Council is a registered charity that was set up in 1982 to conserve a representative portion of Irish peatlands for future generations to enjoy.
Seacology is an international organisation that is committed to protect island habitats and assist local communities in their efforts to achieve this. Since 1991 they have supported 289 projects world wide and 1.3 million acres of some of the world's most vulnerable ecosystems. Further information on Seacology can we found by visiting their website www.seacology.org
The setting up of the The Curlew Task Force was announced by Minister of the Department of Arts, Heritage, Regional, Rural and Gaeltacht Affairs Heather Humphreys TD in 2016. The Curlew Task force adopts a collaborative approach, whereby it is acknowledged that every individual and group is represented on the Task Force can contribute something towards Curlew conservation, from those who shape policy to those who deliver on the ground (reference NPWS website)