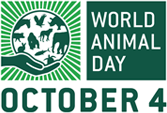 PRESS RELEASE
30th September 2016
Celebrate World Animal Day and the wonderful wildlife on Ireland's bogs
Join the Irish Peatland Conservation Council (IPCC) at the Bog of Allen Nature Centre on Tuesday 4th October from 10am-4pm and celebrate World Animal Day. Discover the amazing animals that live on Ireland's bogs and how they have adapted to live in these difficult habitats. Bogs are home to many interesting animals such as the Irish Hare, Common Frog, the Smooth Newt, Snipe, Skylarks, Meadow pipits, Dragonflies and the rare Irish Curlew. World Animal Day is the perfect opportunity to celebrate these wonderful creatures.
On World Animal Day at the Bog of Allen Nature Centre explore the 'Dead Zoo' and discover the Bog of Allen's 'Big 4', which includes the Otter, Fox, Badger and the Irish Hare. Learn how the Irish Hare can live on the bog as they make there home on the bog surface and eat the bogland plants, how the fox is an opportunistic hunter and the bog makes a fantastic hunting ground. Also explore our Peatland Museum were you can learn all about the formation of bogs and how they support these wonderful animals. Take a walk in our wildlife friendly gardens and search for frogs and newts who also thrive on Ireland's bogs
World Animal Day was set up to raise the status of animals in order to improve welfare standards around the globe. Celebrating World Animal Day unites the animal welfare movement, mobilising it into a global force to make the world a better place for animals. It helps to build awareness of the need to conserve habitats such as bogs to secure homes for some of Ireland's rare and endangered animals.
'IPCC look forward to World Animal Day as it is the perfect excuse to celebrate the wonderful animals that have adapted to live on Ireland's bogs. It is always fun to search for frogs and newts in our wildlife gardens and to pond dip and explore the mini-beasts living in bog pools' Says Katie Geraghty, IPCC"s Campaign Officer.
So why not celebrate World Animal Day with the IPCC at the Bog of Allen Nature Centre on Tuesday 4th of October and show your appreciation for Ireland's wild animals.
Thank you to Kildare County Council for supporting this event through their Community Festival Grant Scheme 2016. For more information on World Animal Day please contact bogs@ipcc.ie