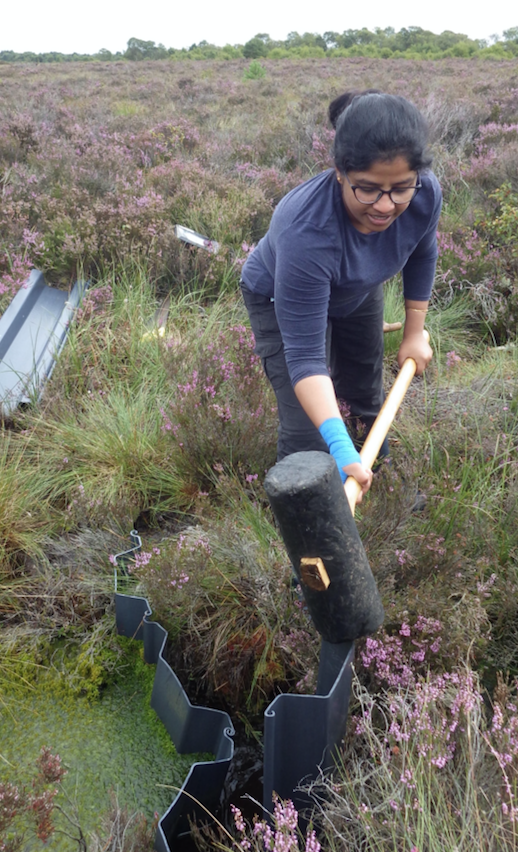 PRESS RELEASE
5th October 2017
Kildare bog restoration project benefits Curlew and Large Heath Butterfly
Lodge Bog, Co. Kildare is a 35 ha remnant of raised bog habitat. The site has been owned and managed by the Irish Peatland Conservation Council (IPCC) since 2005. The key management issue on the bog is the restoration of the water table following years of drainage. Drainage changes hydrology and impacts on the growth of the peat forming Sphagnum mosses. With the aim of achieving optimum conditions for Sphagnum moss growth on Lodge Bog (water table within 10cm of the bog surface year round) IPCC have blocked over 5km of drains since 2005. Over 200 dams were installed by hand including geoflex drain piling, peat and composite dams which consist of both peat and geoflex. 114 piezometers have been installed throughout the bog allowing water levels to be measured on a regular basis enabling IPCC to assess the impact of drain blocking and the health of the ecosystem.
Scientists describe a timeline of successful raised bog restoration following re-wetting. First, physical change – increased water levels and chemical conditions, followed by medium-term re-vegetation and finally long-term topographical changes to the bog surface. Studies of the restoration work on Lodge Bog show Sphagnum re-colonization after just 5 years. The water levels on the bog have risen by over 30cm since 2010 and were within 20cm of the surface 90% of the time in 2016, this is a huge improvement on results in 2010 which showed the levels below 20cm 70% of the time.
The survey also highlighted 21 areas where more drain blocking work was required as a matter of urgency, these essential works were listed as a top management action for Lodge Bog in 2017.
IPCC successfully applied for funding from the Heritage Council under the Community Heritage Grant Scheme 2017 and have been able to complete the drain blocking work on Lodge Bog with the help of some very dedicated and hard working volunteers. This demonstration site provided a great opportunity for IPCC to train citizen scientists and share our knowledge and skills in raised bog restoration. 20 volunteers took part in the drain blocking work in 2017 while 25 people attended the Heritage Week event which showcased this important project.
'Rare bogland species such  as Curlew and Large Heath butterfly breed on Lodge Bog and rely on the raised bog habitat. The drain blocking work completed in 2017 is a vital part of conserving and enhancing the habitats for this wildlife' says Katie Geraghty, IPCC's Conservation Officer.
Ireland contains 51% of the raised bog remaining in the Atlantic region of north west Europe. Due to the utilisation of raised bog resources for turbary, mechanical cutting and forestry only 10% of Ireland's raised bogs are worthy of conservation and even these bogs have been impacted by man. It is important that these bogs are conserved and restored to enhance and extend the raised bog habitats.
Lodge Bog is open to visitors all year round with a boardwalk and viewing platform for visitors to enjoy. For more information visit www.ipcc.ie or contact Katie at bogs@ipcc.ie