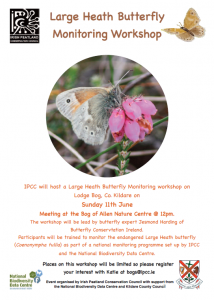 PRESS RELEASE
6th June 2017
IPCC establish monitoring scheme for endangered Large Heath bog butterfly
The Large Heath Butterfly is not the most spectacular of our butterfly fauna, however it is a speceis that can tell us a lot about the quality of our bogs if only we knew how to locate and identify it.
The Irish Peatland Conservation Council (IPCC) are working with the National Biodiversity Data Centre (NBDC) and butterfly expert Jesmond Harding with funding from Kildare County Council to breach the knowledge gaps and develop a tool kit to train citizens interested in butterflies and bogs.
IPCC is currently establishing a scientifically rigorous monitoring methodology for the endangered Large Heath butterfly. IPCC's Lodge Bog Nature Reserve, Co. Kildare will be used as a demonstration site and to build a monitoring toolkit for this species. The National Biodiversity Data Centre (NBDC) is currently putting together a five-year butterfly atlas and the Large Heath is one of the species that they have identified for targeted recording. Once trialled and perfected with support from the National Biodiversity Data Centre, the methodology that is established will be rolled out for volunteers on other raised bog sites across Ireland in 2018 and beyond.
IPCC will be hosting a Large Heath monitoring workshop in collaboration with the National Biodiversity Data Centre and led by butterfly expert Jesmond Harding. The event will be held this Sunday the 11th of June, meeting at the Bog of Allen Nature Centre at 12 noon. This workshop will train volunteers from all over Ireland to identify and monitor Large Heath butterflies, using a toolkit specially designed by butterfly experts studying Lodge Bog.
'This workshop will not only raise the profile of this highly endangered, but often overlooked species but it will train citizen scientists to monitor the species across Ireland contributing to the NBDC's atlas and establishing this species' current distribution and population size' says Katie Geraghty, IPCC's Conservation Officer.
The Large Heath Butterfly (Coenonympha tullia) is a species that is confined to bog habitats and has therefore, lost much of its habitat due to drainage, afforestation, peat extraction and turf cutting. It has been listed as threatened in the Red List of Irish Butterflies that was published in 2010. The Large Heath is the only Irish butterfly with a threat status (Vulnerable) listed in the European Red List of Butterflies. Given that the Large Heath is a raised bog habitat specialist and an umbrella species demonstrating the presence of healthy populations of other invertebrates on raised bogs, it is important that a monitoring scheme to gather information about its population health and range across Ireland is put in place
IPCC would like to thank Kildare County Council for funding this project under their Community Heritage Grant Scheme 2017. IPCC would also like to acknowledge the support and guidance of the National Biodiversity Data Centre and Jesmond Harding of Butterfly Conservation Ireland.
For more information about this project and to book a place on the Large Heath Monitoring Workshop please contact Katie at bogs@ipcc.ie