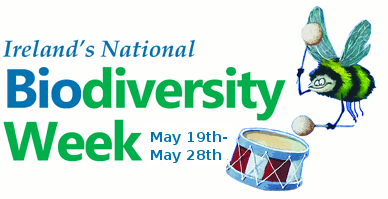 PRESS RELEASE
Big week for bog biodiversity
12th May 2017
National Biodiversity Week 2017 takes place from 19th-28th of May and is all about connecting people with nature. The Irish Peatland Conservation Council (IPCC) have planned four fun packed family events to celebrate Ireland's biodiversity and to share skills and knowledge of biodiversity recording.
IPCC's Biodiversity Week events will include the following:
'Celebrating Birds and Butterflies on Girley Bog NHA, Co. Meath will take place on Saturday 20th of May. This event will be a great opportunity for participants to learn all about butterflies and birds on bogs. There will also be the chance to become a trained citizen scientist with the ability to monitor butterflies as part of the national butterfly-monitoring scheme.
'Enhancing raised bog habitat for endangered breeding Curlew on Lodge Bog,  Co. Kildare will take place on Sunday 21st of May. The day will start at the Bog of Allen Nature Centre with a talk about the IPCC's nature reserve – Lodge Bog which is home to one of Ireland's most threatened birds, the Curlew. The talk will be followed by a walk to the bog where the participants will gain some hands on experience in blocking drains restore high water levels in the bog. For those who do not wish to participate in the drain blocking activity there will be an opportunity to learn about bog biodiversity at the Bog of Allen Nature Centre.
'Marsh Fritillary Butterfly identification and monitoring workshop on Lullymore West Bog Nature Reserve, Co. Kildare will take place on Wednesday 24th of May. This event will provide an opportunity for participants to learn all about the endangered Marsh Fritillary and hopefully spot a few during a guided walk on IPCC's butterfly reserve.
The last of the IPCC's biodiversity week events 'Grand Canal Walk' will take place at the Grand Canal Bridge in Sallins at 7.30pm on Wednesday the 24th of May. The guided walk will explore the wonderful biodiversity along the canal including trees, wild flowers and even some live mini-beasts found beneath the water.
'Biodiversity week is a fantastic opportunity for IPCC to share skills and knowledge in recording Ireland's biodiversity. Bogs are home to many rare species and it is important that we continue to monitor them to ensure their conservation' says Katie Geraghty, IPCC's Conservation Officer.
For further information about these events please visit the IPCC website at www.ipcc.ieor contact Katie Geraghty at bogs@ipcc.ie or call 045 860133.
All of the above events are free of charge and open to the public. This is made possible by the Irish Environmental Network, National Parks and Wildlife Service, Kildare County Council and Waterways Ireland. No booking is required apart from those who wish to take part in the drain blocking on Lodge Bog,  please contact Katie at bogs@ipcc.ie