PRESS RELEASE:  27th June 2013
Lullymore Island Loop Walk and Talk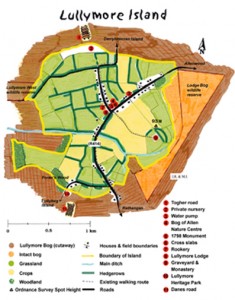 A new loop walk on Lullymore Island, Co. Kildare  is going to be presented during an Open Day of the Bog of Allen Nature Centre on Sunday 21st July 2013. Lullymore is a rock in the middle of the Bog of Allen and has a wonderful variety of habitats and local history just 3km in diameter. It was never swallowed up by the bog and it exists today as an "island" in the bog. The new looped walk connects the features of the island.
"The development of the loop walk involved field surveys of the features of the island, talking to residents about local history and looking for the most beautiful and peaceful spots on the island that might appeal to visitors" says Leonie Tijsma, who studies Forestry and Nature Conservation at the Larenstein University in the Netherlands. "Developing a walk is a nice way to get to know local people and the area. I hope walkers will enjoy the Lullymore Island looped walk as much as I have enjoyed developing it," she added.
Admission is  free to the Open Day, which takes place from 2 to 5 pm at the Bog of Allen Nature Centre in Lullymore, Rathangan, Co. Kildare. The Open Day includes a presentation and a loop walk. A special guest of the day will be the Dutch Ambassador to Ireland, His Excellency Mr. Paul Schellekens.
ENDS
Photographs and interviews available on request, telephone on 045-860133 and ask for Leonie Tijsma, Dutch Research Student, IPCC, Bog of Allen Nature Centre, Lullymore, Rathangan, Co. Kildare, or email bogs@ipcc.ie.
More information about the project can also be found on www.ipcc.ie or the Facebook page of the IPCC
Editors Notes:
IPCC is an NGO formed in 1982 to ensure the conservation of a representative sample of Irish bogs. Our activities include education and publicity, promoting environmental awareness, provision of information and encouraging the protection and conservation of our national heritage for the common good. We own and manage a number of peatlands for conservation and we run the Bog of Allen Nature Centre, which is open to visitors and school groups. The Irish Peatland Conservation Council is a company limited by guarantee, with charitable status. www.ipcc.ie
The open day is supported by Kildare County Council through the
Festival Grant Scheme 2013.