New jewel of the insect world recorded on Girley Bog
PRESS RELEASE
2nd September 2016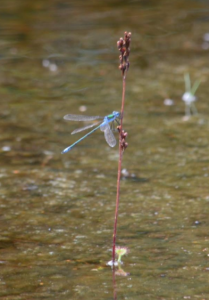 A beautiful new species was recorded on Girley Bog during the Irish Peatland Conservation Council's nature walk for Heritage Week last Sunday 28th August.  A male Emerald Damselfly- Lestes sponsa was spotted and photographed by wildlife enthusiast Johann Kielesz during the walk. The damselfly was identified by IPCC staff and confirmed by the National Biodiversity Data Centre's Tomás Murray who said 'great record – a first for that 10km2'. He also stated that the three closest records of this species to Girley Bog were Lough Shesk in 1983, Red Island in 2002 and Tullaghanstown Bog in 2008.
This spectacular looking damselfly species, also known as the Common Spreadwing, is the last of the Irish damselflies to appear each year, usually in late June. They can be found beside shallow pools and small lakes. They rest characteristically with their wings held half open. They are metallic green with a thin elongate body and the male and female differ in colour and size, the females are noticeably more robust and the eyes are not as bright blue as the males. The adults are long lived, with records of one marked adult living for 69 days. Few adults are seen after mid-September and only a few stragglers survive through to late October.
'It was very exciting to identify a new species record for Girley Bog and the Emerald Damselfly is a truly beautiful addition to the species list' says Katie Geraghty, IPCC's Campaign Officer
Damselflies require water to breed, most species spending the majority of their life-cycle underwater before undergoing metamorphosis and emerging as adults to feed and reproduce. Bogs are fantastic habitats for damselflies and dragonflies as they provide plenty of water for breeding and insect life for feeding on. Girley Bog NHA, Co. Meath is a great place to visit to observe these beautiful jewels of the insect world.
For further information please contact:
Katie Geraghty
Campaign Officer
Irish Peatland Conservation Council
Lullymore
Rathangan
Co. Kildare
R51 V293
045 860133
Editors notes:
Please see attached photo of Emerald Damselfly taken by Johann Kielesz on Girley Bog on Sunday 28th August 2016