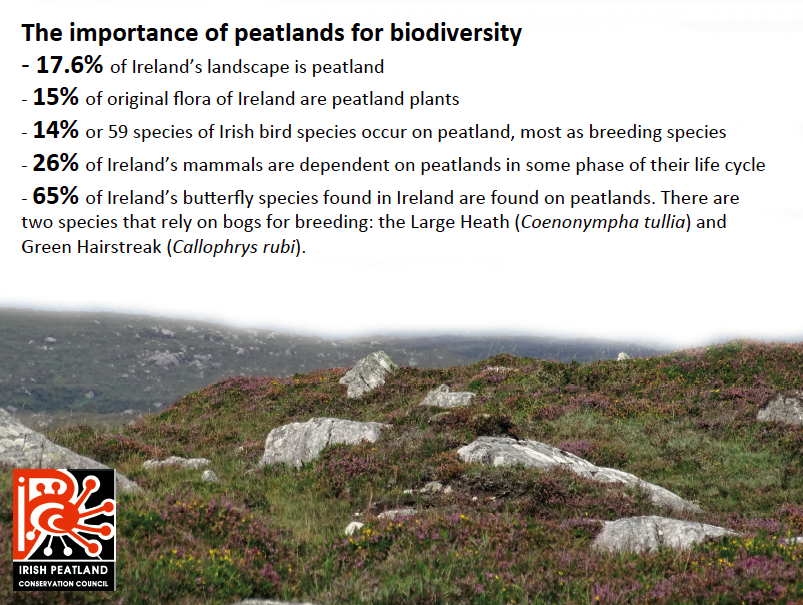 Press Release
20th December 2022
A Year in Review: IPCC's Action for Peatland Conservation
2022 was the 40th anniversary since the Irish Peatland Conservation Council was established in 1982. Peatlands are part of Ireland's cultural and natural heritage, offering our communities many ecosystem services from carbon storage, water regulation, a habitat for unique biodiverity, a land bank for agriculture, an inspiration to artist and an economic resource. The focus for many years has been on those provisioning services of peatlands. Ireland is mining peat for use as a fuel, as a compost and to generate electricity. Ireland even thought so poorly of this wet and wild landscape that large areas were afforested completely changing the habitat structure and dynamics . In 1982 the Irish Peatland Conservation Council was formed to conserve a representative sample of Irish peatlands for people to enjoy today and in the future. Through the years the work of the Council giving a voice, taking action through site management and species monitoring and raising awareness has been guided by IPCC's seven Peatland Conservation Action Plans.
2022 was a busy year for the Irish Peatland Conservation Council (IPCC). The status of Transition Mire habitat was identified as bad according to the report on The Status of EU Protected Habitats in Ireland. IPCC announced in Spring 2022 the purchase of Kett's Lough an example of Transition Mire habitat, which is today conserved for you and all the ecosystem services it offers our communities. The IPCC's Policy and Fundraising Officer was kept busy responding to scoping and planning applications giving a voice for peatland habitat and biodiversity. IPCC's education programme has delivered peatland workshops to over 1500 students nationwide including hosting visits at the Bog of Allen Nature Centre and through the Heritage in Schools Scheme and Sustainable Energy Authority of Ireland. We have met with 1000's of you at public shows including the Honey Show in the Phoenix Park, The Bog Café in Ardee, Co. Louth and the Ballyhoura Science Week Show in Cork. The IPCC has promoted citizen science initiatives through Ireland's longest running frog survey 'The Hop It Frog Survey' managed by the IPCC. We have shared skills including butterfly identification and habitat management for the Large Heath butterfly, a raised bog specialist and the Marsh Fritillary butterfly, Europe's only invertebrate recognised as threatened. IPCC have also actively engaged with peatland management and have transferred skills in water monitoring to you. You might ask why after 40 years of campaigning the work of the Irish Peatland Conservation Council continues?
In early 2022 the publication of the report from the Peat Use in Horticulture Working Group, a report the Irish Peatland Conservation Council does not support. The IPCC were shocked at the actions the Government were proposing within the report considering their investment in peatland rehabilitation and restoration programmes, their obligations under EU law and the Climate and Biodiversity Emergency our nation finds itself in. While the working group identified viable alternatives to peat it went on to recommend that peat extraction for the Industry should continue to 2030 or 2035. If this was not bad enough, within the series of actions the Government announced they were going to 'provide free advice' to support peat mining companies navigate planning legislation.
Ireland declared a climate and biodiversity emergency in 2019. 2022 would see Ireland focus on the loss of our island's biodiversity through the Governments work developing Ireland's 4th Biodiversity Action Plan. A new Citizen Assembly on Biodiversity Loss was established and a National Biodiversity conference was held in June. The IPCC shared research findings into the scale of peatland biodiversity loss presenting that 75% of peatland habitat had been mined or drained and less than 1% remains active. According to the Status of EU Protected Habitats and Species in Ireland the status of raised bog (*Active) is bad, degraded raised bog is bad, blanket bog (*active) is bad and Transition Mire is bad. 26.6% or 8 of the bog forming Sphagnum mosses are on Ireland's Red List. 44% or 26 of the peatland bird species are on the Ireland's Red list. The Curlew has recorded a 98% decline in populations since the 1980's. 19.6% of peatland plants are on the red list.
After 40 years of campaigning progress has been made towards the conservation of a representative sample of peatlands for people to enjoy today and in the future however in 2022 the mining of peat from Ireland's peatland habitat continues. There are continued proposals for developments on and close to sensitive peatland habitat. The designation of Ireland's peatland habitat as Natural Heritage Areas is formally not completed. A new narrative in peatland education is required to share the important role that peatlands offer to support climate and biodiversity loss mitigation plans. Peat moss compost mined from Ireland's peatlands and which results in devastating habitat and biodiversity loss is still available to purchase for use by the amateur gardener. These are just some of the threats and challenges that Irish peatland habitat continues to face today. In 1982 a conversation was started discussing the loss of peatland habitat and recognised that no thought was being spared for the conservation of a sample of Ireland's wet and wild peatlands. This conversation resulted in the establishment of the Irish Peatland Conservation Council. If through the past 40 years the Irish Peatland Conservation Council's Friends of the Bog had not recogonised and took action for peatland conservation would Ireland have any peatland habitat remaining today?