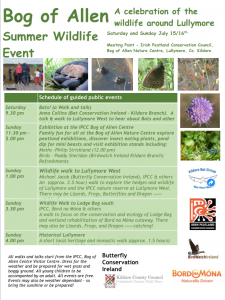 PRESS RELEASE
Bog of Allen Summer Wildlife Celebration
Release Date: 4th July 2017
This Summer the Irish Peatland Conservation Council at the Bog of Allen Nature Centre are bringing forward their International Bog day celebrations to partner with a host of wildlife organisation and individuals to celebrate a weekend of wildlife exploration and discovery.  On Saturday evening the 15th July at 9.30pm and Sunday 16th July between 11.30am-5pm wildlife walks, talks, exhibitions and hands on activities will be available for members of the public to get engaged with wildlife.
Bats are flying noctural mammals that utilise a variety of habitats around our communities and in the dark of night one bat can feed on over 3,000 insects.  Join Kildare Bat Group at the Bog of Allen Nature Centre on Saturday 15th July at 9.30pm to find out more fascinating facts about Irish bats and using a bat detector use your own sense of hearing to investigate what species of bat are living locally in Lullymore.
The following day on Sunday 16th July join Moths Ireland at 12 noon at the Bog of Allen Nature Centre and get up close with some live moths that have survived the previous nights bat feast.  Take time to wonder through the peat exhibitions, wildlife gardens and chat with BirdWatch Ireland Kildare Branch who will introduce visitors to the wonders of local birds.  Children's activities will include frog and newt searches,  pond dipping and nature crafts, but fun for all the family will be taking part in one of three local walks.  At 1pm join Michael Jacob and guests for a walk to Lullymore West and watch for dragonflies, butterflies and wild flowers.  At 3.30pm join Bord na Móna and IPCC for a bogland adventure in search of insect eating plants and lizards.  This wildlife celebration will draw to a close at 4pm with a historical walk of Lullymore.
All are welcome to attend this free event.  For those intending to take part in one of the walks suitable clothing for the outdoors is recommended including strong footwear.   The Bog of Allen Nature Centre are hosting this Summer wildlife celebration as part of Féile an Dulra IPCC's annual festival of nature supported by Kildare County Council.   For further details visit www.ipcc.ie/events or contact the centre on 045-860133.