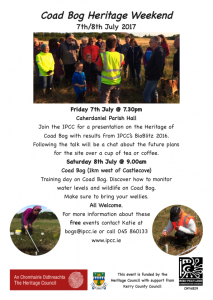 PRESS RELEASE
28th June 2017
IPCC revisit Coad Bog to discuss future plans with locals
The Irish Peatland Conservation Council are delighted to be revisiting Coad Bog, Co. Kerry for a Weekend Heritage Event on July 7th-8th. Thanks to funding from the Heritage Council and support from Kerry County Council the IPCC are delighted to invite interested members of the public to a presentation on the Heritage of Coad Bog, including some results of the Coad BioBlitz event that took place in May 2016. This presentation will take place in the Caherdaniel Parish Hall on July 7th at 7.30pm. The presentation will be followed by an open discussion about the future plans for Coad Bog in preparation for IPCC producing a management plan for the site.
This public evening will be followed on Saturday 8th July with a training day on Coad Bog. The day will start at 9am and IPCC staff will train volunteers to monitor water levels and wildlife on the bog. The aim of this training day is to create citizen scientists who will contribute to the management of Coad bog by recording water levels and monitoring wildlife throughout the year.
Coad Bog is a 10 acre blanket bog habitat located on the Wild Atlantic Way, 1km west of Castlecove in County Kerry. The IPCC are based at the Bog of Allen Nature Centre in County Kildare so it is difficult for staff to visit the bog on a regular basis. By recruiting local citizen scientists IPCC will be able to collect regular data and reduce their need to travel.
'I am really looking forward to catching up with some of the people I met on Coad Bog last May, we received such a lovely warm welcome from the community. We would not have completed all of our management and survey work without the help of the wonderful volunteers who participated in the BioBlitz event' says Katie Geraghty, IPCC's Conservation Officer.
For more information about the free Coad Bog Heritage Weekend event or to register your interest please contact Katie at bogs@ipcc.ie