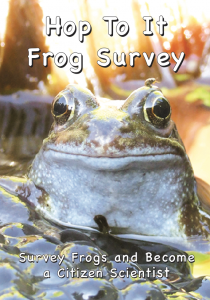 Press Release

Hop To It in 2020 and take part in Ireland's Longest Running Citizen Science Frog Survey
Date: 6th February 2020
The Irish Peatland Conservation Council launched their annual all Ireland Hop To It Frog Survey in 1997.  Over twenty years later they again call on, you, members of the public to watch for and submit your sightings of the various stages of the Common Frog (Rana temporaria) lifecycle.  The Common Frog is one of only three native Amphibian species in Ireland.  Nuala Madigan, Environmental Education Officer with the Irish Peatland Conservation Council explains 'the frog has a short lifecycle and combined with the fact we know so much about the various stages of the frogs lifecycle, it is an ideal species to monitor and help indicate to us changes in our environmental quality'.  Soon Ireland will experience the Spring wave of warming temperatures encouraging the Common Frog from hibernation and towards wetlands in search of a mate.   You will find frogs in a pond in your garden or local park or as you enjoy a Spring walk in your local woodland or along a canal.   The Common Frog is found in every county of Ireland and you might even find them in a roadside drain.  
Depending on where you are in Ireland you will probably have to wait a few weeks yet before the frogs in your local area begin to lay spawn so the Irish Peatland Conservation Council want to share with you some fascinating and quirky facts about the Common Frog while you wait.  Did you know that only male frogs croak – they have a vocal sac, loose skin on their throat, that expands to make the frogs characteristic noise and it is used only by the male to attract a female during the breeding season!  Frogs are considered gardeners friends as they feed on slugs that might be feasting on your newly planted vegetables but it is only the adult frog that is a carnivore, tadpoles are herbivores feeding on plants beneath the waters surface.  The Common Frogs skin is decorated with wonderful patterns, these patterns help to disguise the frog from predators, but did you know that the frog can change the colour of its skin to match its surrounding environment from a light shade of green/brown to black. 
Wherever you are in Ireland it is possible to come across the various stages of the Common Frogs lifecycle including adult frogs, frog spawn, tadpoles and even leggy tadpoles.   The Irish Peatland Conservation Council encourage you, this year, to become a citizen scientist by recording and submitting your sightings of the Common Frog to them.  It is easy to submit your records, contact the Irish Peatland Conservation Council via phone on 045-860133, email your sightings to bogs@ipcc.ie or go online and submit your sightings through the website of the Irish Peatland Conservation Council http://www.ipcc.ie/help-ipcc/hop-to-it-national-frog-survey-irelandcard/. 
Editors Notes:
The Irish Peatland Conservation Council are a national charity (CHY6829, RCN 20013547) that aim to conserve a representative portion of Irish peatlands for people to enjoy today and in the future.