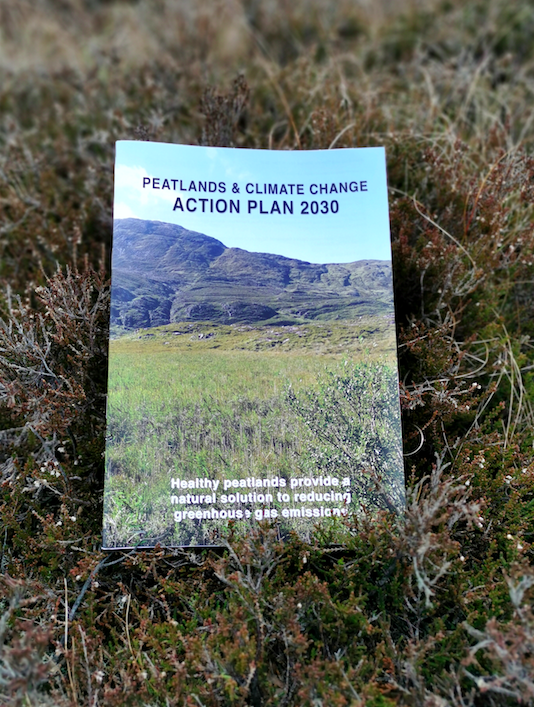 Press Release
Publication of Ireland's new Peatlands and Climate Change Action Plan 2030 Celebrating Earth Day 2021
22nd April 2021
The Irish Peatland Conservation Council are celebrating this Earth Day, 22nd of April 2021, with the publication of the charities 7th Action Plan – Peatlands and Climate Change Action Plan 2030. The theme for Earth Day this year is 'Restore Our Earth'. Peatlands cover 3% of the land surface globally and are estimated to store 1,566 million tonnes of carbon in Ireland1. In 2019 Ireland declared a climate and biodiversity emergency. The Irish Government have acknowledged that action needs to be taken to understand the causes and impacts of climate change.
This action plan explains the unique role between peatlands and climate, restoration methods and costs, policies in place currently, threats, peatland values and so much more. It answers some frequently asked questions. How much carbon is sequestered in peatlands? What are the restoration costs? What state are peatlands in? What actions are needed?
The action plan identifies 12 actions that can be viewed as the building blocks to support peatlands in the fight against climate change for all of us and which will also guide the Irish Peatland Conservation Councils 'Save the Bogs Campaign' as we enter the United Nations Decade of Ecosystem Restoration. These building blocks of peatland actions will also support government, local authorities, community groups and individuals to protect peatlands and guide policy makers in the right direction for the future of our peatland habitat. As Ireland continues to address the challenges our biodiversity faces this action plan should be read in conjunction with the Irish Peatland Conservation Councils 6th Action Plan 2020 – Halting the Loss of Peatland Biodiversity.
Peatlands are essential carbon sinks and habitats for a unique and diverse range of biodiversity. 53% of the soil carbon is sequestered in raised and blanket bogs in Ireland which cover less than 20% of the land surface2.  Restoration of peatlands that have been drained or degraded is a long and complicated process. The more damaged a site is, the higher the costs and longer period for results but, in the end the results outweigh all as the savings in greenhouse gas emissions would be worth it. By restoring peatlands through rewetting, landowners can reduce carbon emissions with some sites becoming carbon sinks in the order of 0.4 to 1.04 t C ha-1 yr-1 such as drained only, domestic cutover bogs, nutrient-poor industrial cutaway and peatlands reclaimed to grassland3.
The Irish Peatland Conservation Council want to see the government commit to the protection of peatlands by developing a 20-year peatlands restoration and rehabilitation action plan with a budget of €1 billion to make our country climate resilient and carbon neutral (Action 1). The Irish Peatland Conservation Council also identify that the establishment of a carbon credit system for corporations and individuals could help to fund essential restoration and rehabilitation of peatlands in Ireland (Action 5). The Irish Peatland Conservation Council call for peat extraction for the horticultural industry to stop and find a sustainable alternative (Action 8). We need to hold ourselves accountable and a new storyline in education regarding peatlands and climate change must be developed and implemented across all curricula, back to back with a strong public awareness campaign (Action 6).
Paula Farrell, IPCC's Conservation and Education Officer has this to say; 'The Peatlands and Climate Change Action Plan 2030 was made possible with the support of the charities Friends of the Bog, its promotion over the coming year has been supported by the Tides Foundation and print copies and distribution of these supported by the Heritage Council and we express our thanks for this support. We need to take action now to protect our peatlands and put them on the right path for recovery'.
You can both purchase a copy of the Peatlands and Climate Change Action Plan 2030 or download a digital copy on the website of the Irish Peatland Conservation Council www.ipcc.ie.
Editors Notes:
References
1. National Parks and Wildlife Service (2015) National Peatlands Strategy, Department of Arts, Heritage and the Gaeltacht, Dublin.
2. Tomlinson, R.W. (2005) Soil Carbon Stocks and changes in the Republic of Ireland. Journal of Environmental Management 76: 77-93
3. Renou-Wilson, F., Wilson, D., Rigney, C., Byrne, K., Farrell, C. & Müller., C. (2018) Research 236: Network Monitoring Rewetted and Restored Peatlands/Organic Soils for Climate and Biodiversity Benefits (NEROS). EPA Wexford.
Acknowledgements