Press Release: 10th July 2013
Bog Memories – Love and Marriage down the Bog 
Bog memories are being collected by the Irish Peatland Conservation Council as part of our work for the Gathering Ireland 2013. We are inviting members of the public to share their bog memories with us by sending them to the Bog of Allen Nature Centre.  The Bog Memories are being posted on line at www.ipcc.ie. Some of the memories received have been of days spent hill walking, for others days footing turf, a picnic on a bog or identifying peatland plants.  These memories will form the focus of the Irish Peatland Conservation Council's celebrations on International Bog Day between 2-5pm on the 28th July at the Bog of Allen Nature Centre.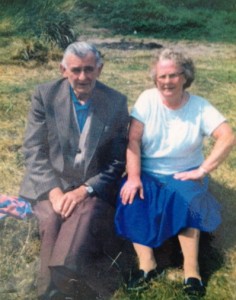 Anne Sweeney from Monasterevin, Co. Kildare shared the bog memories of her parents.  'It is was the summer of 1945 a young Paddy Sweeney from Toe Head in West Cork moved to Kildare for the summer to save turf on Roseberry bog just outside the town of Newbridge, Co. Kildare.  Leaving his family behind he began work on the bogs.  One afternoon himself and his colleagues spotted a young woman and her mother traveling on an ass and cart home from their day spent saving turf.  For entertainment the boys began to throw sods of turf at the woman and one sod that Paddy threw hit the young woman, Nancy Lynch.  It was a few days later when Nancy and her mother were walking down the main street of Newbridge when they bumped into Paddy and history was written.  Paddy and Nancy married in the summer of 1947 in St. Conleth's and Marys church in Newbridge.'
Peatlands have a part in Irish social history.  The variety of memories received by the Irish Peatland Conservation Council to date have been fantastic.  It is not to late to submit your peatland memory you can e-mail it to bogs@ipcc.ie or visit IPCC's website www.ipcc.ie and submit it online.  These memories will be shared on the 28th July at the Bog of Allen Nature Centre's Gathering event between 2-5pm and all are welcome to attend.  For further information or to read some more peatland memories visit www.ipcc.ie.    The Irish Peatland Conservation Council would like to thank The Gathering Ireland 2013 for supporting this intiative.
END
Editors notes
For further details, information, pictures or interviews, please telephone: 045-860133 and ask for Nuala Madigan, Education Officer or email bogs@ipcc.ie